If you've seen the movie Up In The Air starring George Clooney, that will give you an idea about my day.
Out of the house at 11:30 to drive two hours north and hang out at BLI (Bellingham International Airport) for lunch before settling into Seat 1C.
One of the perks of 1st Class is the free use of the DigiPlayer ($10 Value) on which over the course of the 6-hour flight I managed to get 2.5 movies. One Batman, one Bro-Mance, one half of a Tim Allen narrated animated movie (finished that on the return trip).
Here is a shot of the shrimp skewer dinner (no shot of the chicken breast salad with Hawaiian Bread Roll):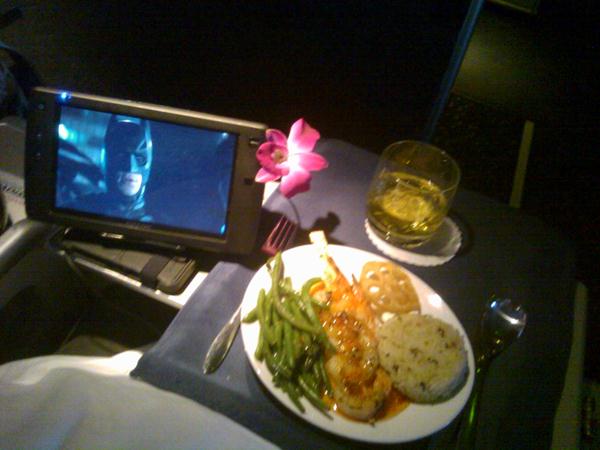 And a shot of the Mai Tai mid-flight – it was so sweet that I had to keep watering it down with Diet Coke, making it taste much more like a Long Island Iced Tea: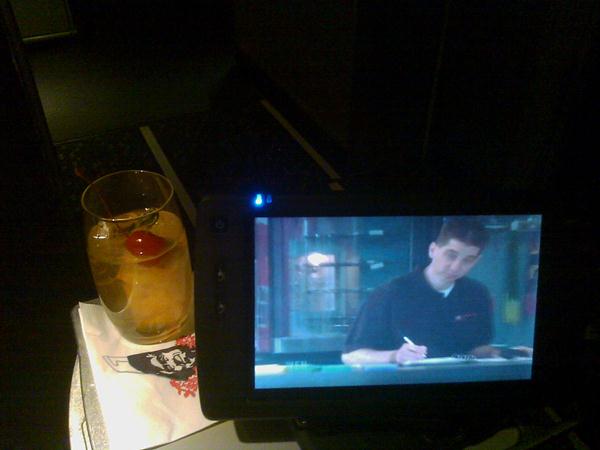 Arrived 30-45 minutes early. WOOHOO, more time in the Sky Club (Delta's renamed Crown Room) – and time for a little shopping:
Box of 3 pineapples (Swanda, DancingBear, Jim)
Two key rings (Joe & Lisa since we are going next month)
Closed down the Sky Club – they close at 10PM and my return flight (another 6 hours in the air) doesn't leave until 11:30.
Back in Seat 1C headed back to Bellingham.
Only tiny snack service on this run.
Ambian washed down with scotch. We'll see if that makes me sleep.
[210.3]