MoonSong came to clean at 9 or so, which got me out of bed and starting to pack to today's adventure. When I left at 10:30 or so, he was still cleaning and dusting and whatever.
First stop is at the apartment to pick up a couple of pairs of custom shoes I ordered. Well, I THOUGHT it was two pairs, apparently I ordered another pair from Vans that I'd forgotten about. The Vans are on the left, and the two on the right are Converse: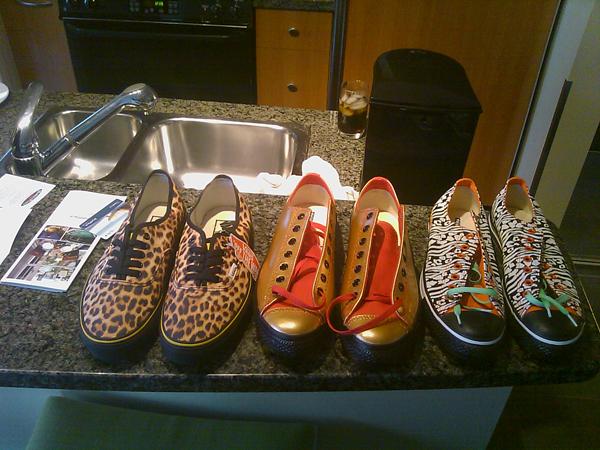 You can't really see from the photograph, but the pair in the center are a very shiny gold patent leather. A what the hell is "patent leather" anyway? Click Here For The Answer.
It was a slow trip up the coast. A stop for gas and thrifting in Mount Vernon, a stop for lunch in Blaine, a stop at duty free for whiskey (and free playing cards with 13 different stories about Jack Daniels on them), wine shop for red/white, Safeway for appetizers and other dinner stuff meaning an arrival at 3pm at the condo – only to be informed that Shaw Cable was installing new digital TV boxes in each of the units meaning no early checkins.
Luckily, twenty minutes later they got the "All Clear" for my floor – the top floor of the WorldMark units – 24. Nice unit that has more room in the dining room.
Waiting for me at the door of the condo were Epick and his boyfriend (who I have the hots for) – my arrival at the unit was delayed by going to the basement parking lot to get luggage and groceries.
Boyfriend hung for a couple of hours before heading home to pack for a weekend move – Epick stayed late into the night helping me take care of that Jack Daniels – I made a little latenight dinner of lamb chops after he left, but still had to make a midnight Tim Hortons run. That won't be good for my weight numbers!
[212.3]