The downside of a train with not many people on it… fewer seatings in the Dining Car – tired of her nagging it was mid-way after seven when I stumbled down the hall after telling the Car Attendant NOT to make up the bed as I was planning on using it again.
Here is a shot from the Albuquerque train station: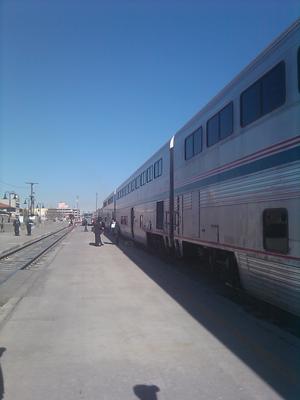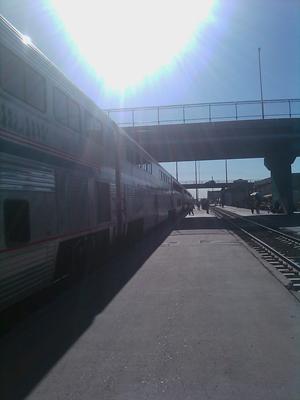 Wow, those two look pretty good together, too bad I was shooting into the sun.
Jen was waiting for me at the train station in Lamy for the trip into town to see the parents… guess I need to start saying either parent or Mom. I'll be staying in the condo with her, sleeping in Dad's bed (they had separate bedrooms).
Jen stayed for a bit, which was good as after she left there were some teary moments. She surprised both of us by mentioning she was thinking about a train trip through the Canadian Rockies since she hadn't done much of any travelling for the last ten years.
Beautiful sunset from the back windows of the condo: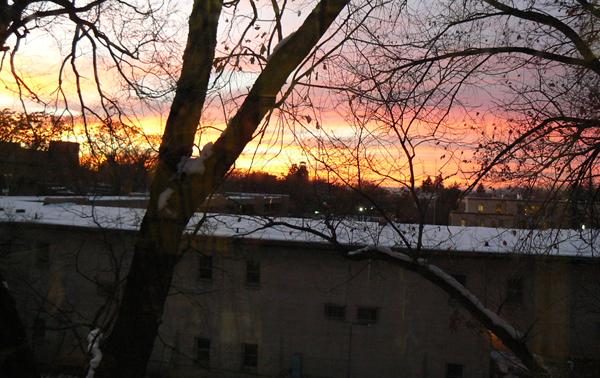 Mom said she never sees the sunset as she's usually in her bedroom watching TV or something and there is no direct line of site – but from the living room chai, a quite nice view.
I ordered dinner up from the Dining Hall, well, it was under mom's name. She hasn't been eating much in the last couple of weeks, but she did have half the Hungarian Apple soup with some crackers. She has her rustica toast in the morning and used to eat her big meal in the Dining Hall when dad was capable of getting down there. Emily (my niece) and I are taking her out for lunch tomorrow so maybe this will get her back in the practice of eating a little more.
By eight mom was in bed and I was faced with the choice of sleeping in Dad's still unchanged sheets (maid service is tomorrow) or changing them. I opted for laziness.
A big thanks to someone in Portland who kept my mind off the day by chatting/texting into the night.
Must sent thank you.
We will see what tomorrow brings.
[? ? ?]