Well, today's big adventure is going out to lunch with Em (my niece, my mother's granddaughter) for lunch at Café Pasqual's: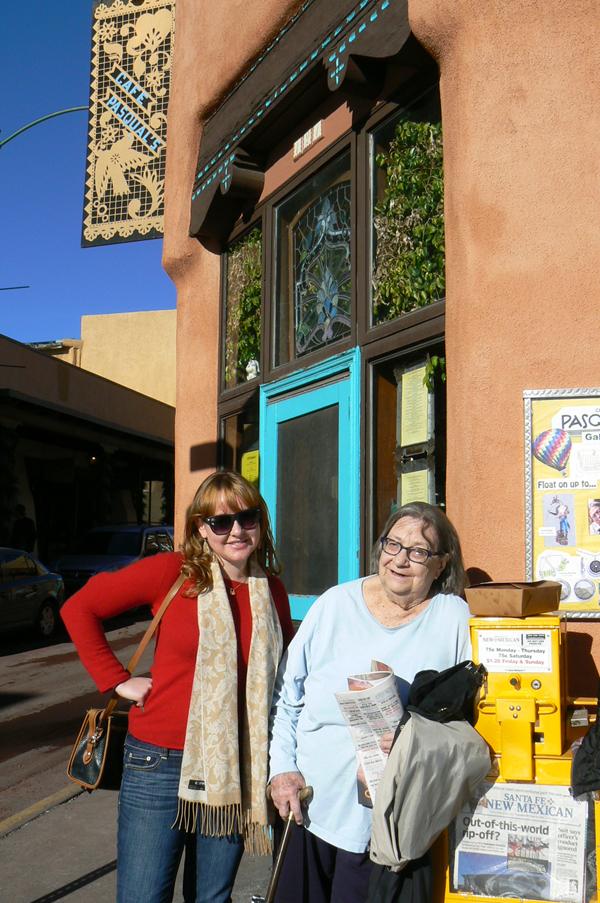 Nice an sunny in Santa Fe today. Em went with the trout scramble off the breakfast menu (served until 3), mom with a hugh BLT that came with home fries (so big she boxed half of each for later), and I with the chile rellano/chicken enchilada combo – all were good.
My afternoon was consumed running all over town looking for a New Mexico coffee much (easy) and a rabbits foot (hard). Finally looked on Amazon and found the rabbit's foot – now the question is "who wanted one?" It came from a conversation at Swanda's latke and vodka party, the question is from whom.
Dinner for me was leftovers from various delivered meals from the Dining Hall – I'm making good progress cleaning out the fridge.
Just nice to hang with Mom and take about the random thinks that come up – like thinking about a couple of days around new years at Oujo Calinete spa a little north of her. Nice her he thinking about getting out.
And clean sheets tonight – the maid was in, but I'm still taking the sleeping pill.
[? ? ?]