The masses descended on the apartment around 11 this morning… sis-in-law/bro-in-law/nieces. A whole lot of volume in the place after the last couple of sedate days.
More going through the closets and taking things that appeal to them, and the going through of the drug box (oh, those are the same eye drops I use… look, the my inhaler I use) – the rest will go to a local agency that passed on medications to those who have trouble affording them. The hospice folks inventoried the Oxycodone and the tablet morphine and took those with them.
Most of the gang left for a movie a little before noon, and a little after noon the Colonels came to pick me up for lunch on the way to the airport.
On the recommendation of several of the family members we were off to Puerto Peñasco for a really nice traditional Mexican (lots of fish dishes) meal. I had the seafood stuff snapper for $12 for a huge serving. Good thing I wasn't eating the rice of the potato wedges, otherwise wouldn't have finished all the seafood.
Left at 3:10, well, that was the schedule, flying out directly from Santa Fe (50-seater regional jet). The reality was 3:50 with deicing, waiting for another plane – luckily I had two hours between flights at LAX, but it did mean a rushed dinner of salad and cocktails in the Board Room.
Flight to Seattle arrived on time. Sat next to a clueless but pretty boy (sat with legs akimbo into both window and aisle areas, both elbow rests, but I'll forgive that since it the center seat).
The airport pickup area was a cluster mess, next time I'll suggest meeting at departures where there is less traffic and fewer idiots – THANKS JILL for picking me up.
And thanks for hanging out and chatting for a bit.
Of course it meant it was way after midnight before I got to bed, and there is work tomorrow.
And for today's photo, the courtyard of my mother's building the day I left: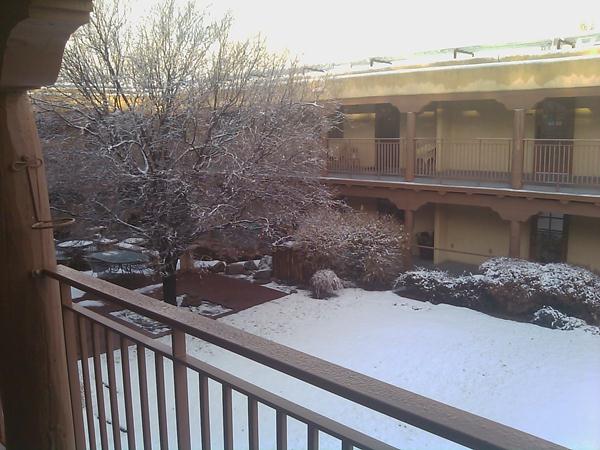 Off to bed.
[? ? ?]