Dropped Sven in Pioneer Square at the Klondike Museum, the smallest National Park in the system – a store front museum really.
After the museum he was headed to the Seahawks game. He wanted to see a US football game, though probably didn't realize exactly how expensive a good ticket at a football game where the team is headed to the playoffs… $242 is the answer ($131 was the original ticket value). But he got a good seat: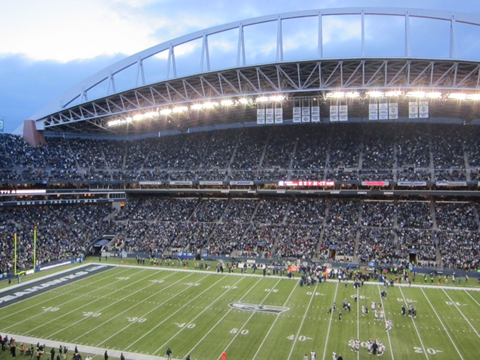 Yep, that's the 50 yard line. Definitely a great seat – first row of the "charter" section.
Meanwhile, I went to work for a "morgue-like" day. Don't know what it is about Sundays that are so slow.
Off at five and over to Bliss' for My Dinner With André, who was visiting from Portland with his boyfriend. Sven showed up a few minutes after me a bit chilled from being outside all day – good thing the meal is homemade chili with cornbread muffins. Nice warm comfort food.
A couple of bottles of wine later it was home, with Sven nodding out about 11, and me about 12:30.
[210.8]