First, a picture that I forgot to add last night of Sven and Missy at dinner: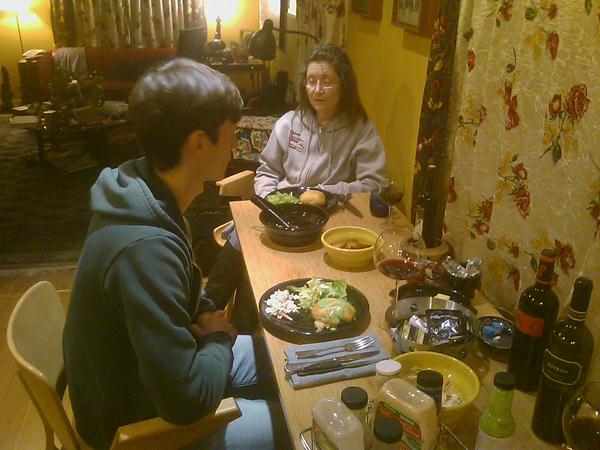 11am found me in the shop for inventory – after hugging Sven goodbye and telling him to lock the house. It took about an hour and a half to count all the bottles, bags, and miscellaneous.
Next stop = Portland. Grabbed Billy so that we could get checked into the downtown Courtyard by Marriott on his employee rate, which was $19 plus tax. Too bad he doesn't get a deal on the valet parking which is $30 a night. Ouch. Oh well, even with that it is still about 1/3 of rack rate for the room.
Popped Billy back to work as he's on until 9:30 or so and headed over to have drinks and dinner with Julian at the bar at the Lloyd Center Applebees – he on one side of the bar (the working side) and me on the other (the drinking side). Sweet guy that he is he picked up my tab. I guess all those times I've cooked him dinner are coming back to me karmically.
Back at the hotel, I actually sprung for parking. Beats moving the car at 8am.
A little time to catch up on email before Billy's return. Mount Gay rum was waiting for him, as was I.
A VERY late night.
[210.2]