I have Jim's work week this week – as he's sunning himself in LA. I wish he'd take more holidays so I'd feel less guilty about taking more of mine.
Wednesday's at the shop for Jim are mostly about putting together orders for the various distributors, and sampling wines that come in the front door from said distributors. He places the orders before he left for Cali, so it's up to me to sample some wines as the reps come in – and research some special orders from a Sunday customer… the one that saved the day on Sunday's totals.
The "Hella" part is that my schedule this week is Wednesday, Thursday, Friday, Saturday close… with Jim taking Sunday. In some ways today made me feel more connected to the "real" shop, not just the half Saturday and all day Sunday routine.
Getting off at 7 it is so tempting to just go next door to St. Clouds and have a nice meal at the bar, but alas, I'm headed home, a steak waiting for me in the fridge. The joys of the 30-50% off rack at Safeway. Of course it means that I don't eat until almost nine after winding down from the work day.
I did get some work done tonight… I got the shine bottles labeled from the last runs and put on the shelf: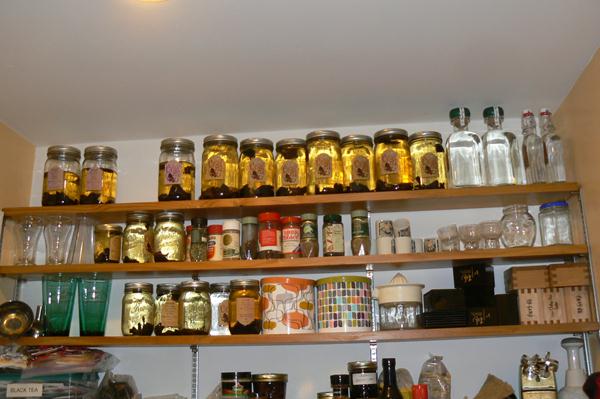 Let's hope that there isn't an earthquake since those are the top shelf.
Nighty night for me.
[211.8]