Opened the shop, then opened my email to find this:
Hello Mr. Souder,
We're always glad to hear from MileagePlus® members like you. Thanks for writing.
Congratulations! You have been awarded a trial period of Premier® Gold status in the MileagePlus® program! This will make your travel with us comfortable, simple and more rewarding than ever.
Your status will be effective for 90 days. Your 90 day timeframe will be January 20, 2013 through April 20, 2013. To remain a Premier Gold member through 2013, you will need to fly 12,500 Premier qualifying miles (PQM) or 15 Premier qualifying segments (PQS) on flights operated by United, United Express or Copa within that 90-day timeframe*.
If you meet the above required PQM or PQS threshold(s), a Premier Gold kit will be issued and mailed to you. Until you have a card, be sure to add your MileagePlus number to your reservation in order to benefit from your Premier status.
*Please note that qualifying activity for this promotion includes only base PQM/PQS and class-of-service bonus PQM/PQS earned on flights operated by United, United Express or Copa, and credited to your MileagePlus account. Any other bonus PQM/PQS, promotional PQM/PQS, credit card PQM, or PQM/PQS earned on other Star Alliance carriers do not count toward qualification for this promotion.
MileagePlus members are allowed to earn Premier status through the Premier Status Match program a maximum of one time in a five year period. In order to re-qualify for Premier Gold status in subsequent years, you will need to meet the published criteria.
Currently, Premier Gold status can be earned by flying 50,000 PQM or 60 PQS (including four flights operated by United, United Express or Copa) between January 1 and December 31 of each calendar year. For details about the MileagePlus Premier program, visit www.mileageplus.com/premier.
I hope you will travel with us often and take advantage of the exceptional benefits and service reserved for our Premier members around the world. Thank you for choosing United, and enjoy your Premier Gold membership.
Thanks for participating in the MileagePlus® program!
Well, that 12,500 PGM will happen by the end of the first full week of March, and they have already updated me online: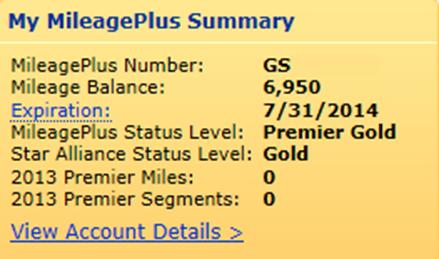 So what was my first order of business? Go online and get better seats for the two Hong Kong flights. The other thing about Gold status is that there is a 50% bonus of Frequent Flyer miles so that my 28,376 butt in the seat miles turn into 42,564 which with what I have in the account and what got charged to the credit card for the trips will give me over 50,000 frequent flier miles – enough for a round-trip anywhere in the US and Canada.

But enough of being a mileage whore.

The tail end of the work day was an artist reception which brought in a bunch of people, and a couple of hundred more dollars in wine sales. The deal with the artists is that they deal directly with folks who want to buy their artworks so we don't have to run it through our books and have to take a cut – which the artists like because galleries usually take 50% of the sale price.

After work it was off for dinner with Mr. Bliss, a wonderful Sunday tradition that is getting started – even if it does take time away from grading his student's papers.

Which is also why I was home fairly early.

[212.8]