It was raining when I left Forks, it was raining when I discovered that my beloved Dog House restaurant in Aberdeen had turned into a Thai Takeout place, it was raining as I gassed up at Safeway, it was raining when I picked the boy up, it was raining as we ran errands, and it was raining as we walked to dinner. After the last couple of weeks of sunshine and weather, it was a bit of a change, and not much fun to drive on winding roads in.
Room was ready, but considering it was a little before 4, it should have been. Update on the Seaside WorldMark, they had gone wireless for their Internet, which screwed over the boy as he needs a wired connection for his xBox360 for which he doesn't have a wireless card (guessing he will want me to buy one of those for him as well).
Same room location as a couple of weeks ago, just two floors higher: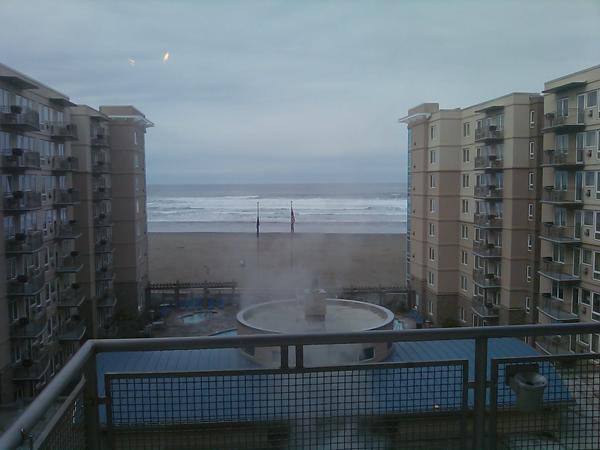 Good straight on view of the ocean, and close to parking. Not so close to the pools, but I haven't been in those pools in at least 5 years.
Had dinner at Norma's Seafood and Steak. I had some Washington Coast oysters on the half shell – a little large for my taste, he had the crab cakes for his starter, then it was onto the fish and chip sampler (1 piece each of cod, albacore tuna, halibut and salmon) which was quite tasty – he opted for the BBQ Hamburger being in a meat mood. Bud light for him, a couple of Manhattans for me. $66 was the total after the 10% off coupon from the WorldMark. Definitely cheaper to cook in the room!
Nice to be off the road for a couple of days.
[? ? ?]