Well, woke up and the boy (and his xBox360) was gone – don't worry, my wallet was still there with everything in it. There a note (text message) on my phone saying his wasn't feeling well and headed home to lay low for the day.
Bugger.
No reason to hang around Seaside if he's not coming back to spent the night so I made breakfast, updated the blog, called the desk to check-out, packed the car and left.
On the way out of town got the oil changed by idiots (Oil Can Henry in Seaside) and headed north. The rain started shortly after. Damn, another day of driving in the rain, or is that driving rain.
A little stop at Burgerviille – hey, maybe I should map all the Burgervilles in my TomTom… another chore for another day.
The advantage of leaving a day early is that I can help Jim at the shop for the private wine tasting for my old employer Events & Adventures. I stopped by the house to unload the car and headed to the shop… only to find that 90% of the people were already there, having showed up 15-30 minutes early. Yikes. That's a prompt group.
It was a good thing that I changed my plans as there were 15-20 people who at the end all wanted to buy wine, get wine advice, etc.
The lovely Natasha (from my trip to Thailand a couple of years ago) and bought seven bottles. Thanks Natasha. The group (who we offered 10% off on all purchases) ended up dropping around $700, not sure if that included the fee we charged them.
Here is a shot from the security camera: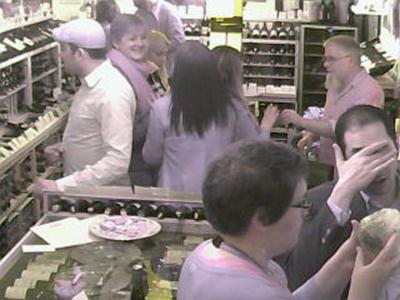 Lots of people in the shop! Fluffernutter is thinking about increasing the number to 25 figuring on 20 will show up, or was to 20 figuring 15. He's thinking about doing this ever couple of months, which would be nice.
Got home at 9 (which was better than I thought it would be) only to find that I didn't have the salad I thought I had, but instead I had a bunch of green onions which fried up nicely with the steak: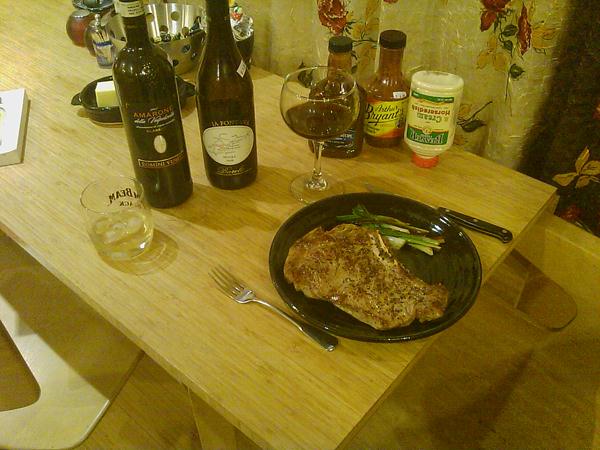 And from the shop there were some sample bottles from the reps that were at the end of their sample life (second day):
2008 Domini Venetti Amarone della Valpolicello ($40 retail)
2006 Livia Fontana Bussia Barolo ($55 retail)
Both are both out of my usual drinking range price wise. Basically there as enough in each bottle for a nice glass. Too bad Jill wasn't here to join me.
[? ? ?]