For some reason I set the alarm for 7:30 rather than 8. I made coffee and went back to bed without much success sleep-wise.
Got breakfast in me and headed to the airport around 9:30, and was parked, through the speed line at the airport and in the Board Room by 10. Still no upgrade, though at the time four people hadn't checked in and I was number two on the list.
Got a bunch of papers read, had a couple of drinks, had a little food and headed to the gate. I don't really like the N gates that Alaska uses as they are a fifteen minute walk-tram-walk from the Board Room. I might like them better in a couple of years when they build a new club on the roof of the N Satellite.
Still no upgrade. Oh well, another day.
Got to SFO and had to find something to eat before heading into the city. After two strike outs (too starch based) I found a food court in the International Terminal (pre-security) and got some surprisingly good Mongolian Beef (no rice) to hold me over to dinner.
By 4 I was waiting outside the boy's house – they weren't answering their cell phones. But it was a sunny day which is a nice change after Seattle.
Dinner tonight was out – at the CrêpeVine in Berkeley – they are a small Bay Area-based chain. Denver omelet for Onyx (with salad rather than potatoes), big Asian Chicken Salad for Lunetta, and the pulled pork sandwich with Caesar salad for me… I only ate a quarter of the potato bun, but I succumbed to the fries. Really, they are just a vehicle for catsup. Tasty and not too expensive, not that it matters since Lunetta picked up the tab.
Back at home it was time to set up my workspace: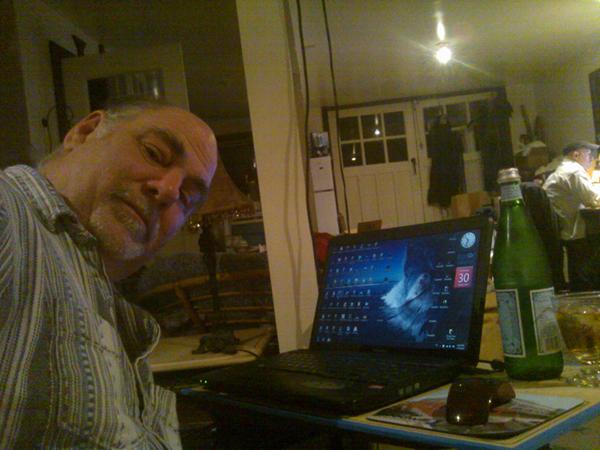 Yes, another crappy cell phone picture.
[214.8]