When I say Hell, that's pretty close. At noon, while printing front side of the directory…the printer jammed…and the tray drawer handle broke off in my hand. Oops.
Half an hour later, I was at WonderFools place rummaging through his garage (thank goodness for those keypad entry systems) for the carcass of another HPLaserJet 4500, one of three that I used to own. WonderFool bought one, Greg bought one (and donated back to the Faeries last spring), and the third went to Floating Bridge Press where it eventually died (or so they thought). WonderFool and I have been using their dead printer for parts ever since. At the moment there are only a couple of partial toner cartridges left to salvage – even the control board is gone. These things are real beasts.
Back at home with a replacement drawer I went to work prying the fascia of the old drawer (basically ripping it off the printer) to get to the release that the lever used to operate. Had to power it back up to get a relay tripped to finally get it out. Once out, it was back in and I was back printing in 10 minutes.
With things printing it was off to the University of Washington Surplus Store to see if they had anymore cartridge, repair units, etc. for the 4550 lying around. I've been getting brand-new HP-branded toner cartridges for $5 each (remanufactured ones run $35-$50 and I don't think HP even makes them anymore). No luck at the store, well the UW store, much better luck at Safeway with a marked-down meat score of half a dozen steaks, some lamb, some stuffed chicken.
Here is an amusing shot of me on a call with one of the Queens Registrar: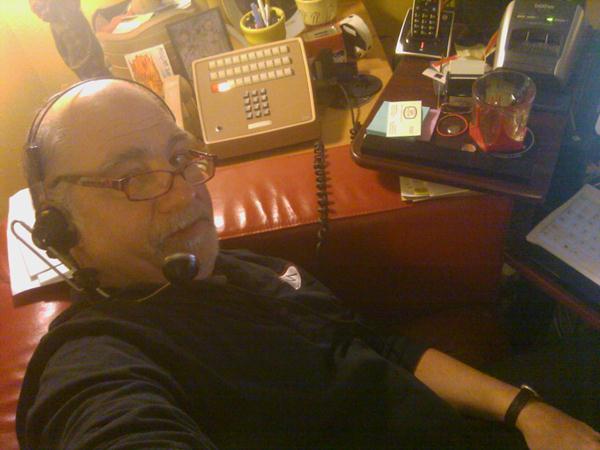 I had the chicken stuffed with cheese and jalapeños for dinner along with a nice big salad.
Maybe the greens will speed the recovery of my ear drum and throat.
[209.6]