While I work, Jim cleans his house and bakes a big bird – think Turkey.
The event? A ten-year vertical tasting of his various Syrah based wines over the years. Luckily the shindig starts at 7pm which is when I get off work so I won't be two late since his house if 4 blocks from the shop. Here is a portion of the invitation: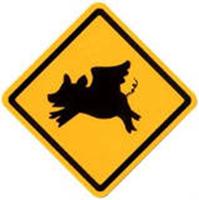 When Pigs Fly

Friday, February 7th

7pm

Come join us for a 10 year vertical tasting of

Chateau du Trois des Dindons' Syrah.

2001 through 2010

I stayed for an hour and a half. Would have stayed longer but all the talking was killing my throat. Home I went to finish the printing of the directory.
Well, not the finish, just more printing, still not done, but at least I didn't need to fix myself dinner.
[208.6]