I was off the land and on the road at noon and back on the grid 45 minutes later. One voicemail, one text, almost 200 emails. Not bad for five days out of touch.
So here is the recap of how I spent my time in the woods.
I slept LOTS. Coming to the gathering with the remnants of a head cold that I didn't want to give to anyone else which meant no kidding, no hand shaking, limited hugging. And coughing into my elbow at all times. The typical day didn't even include much catching up on reading – just a couple of pages on a couple of different afternoons. Skipped breakfast every morning, sleeping into about 12:30, then it was down to the lodge for a mostly salad lunch, then back to the cabin for an afternoon nap before the cocktail party that started every afternoon at 4. I think I only ate two dinners in the lodge – too many appetizers of meat, cheese, crackers (tough not for me) that it didn't seem to be any need for dinner. Usually went down to the lodge around 8pm for whatever evening program what happening (Spoken Word, Fashion/Auction, Talent).
Didn't take a single picture. Didn't keep the blog up-to-date (not that I could have uploaded anything). But here are a couple of pictures of winter at the Bush: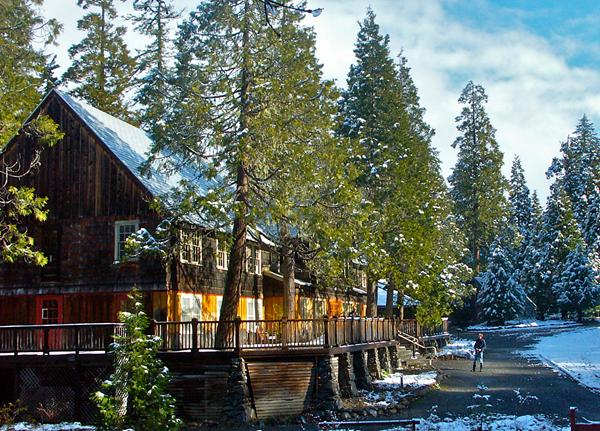 The lodge…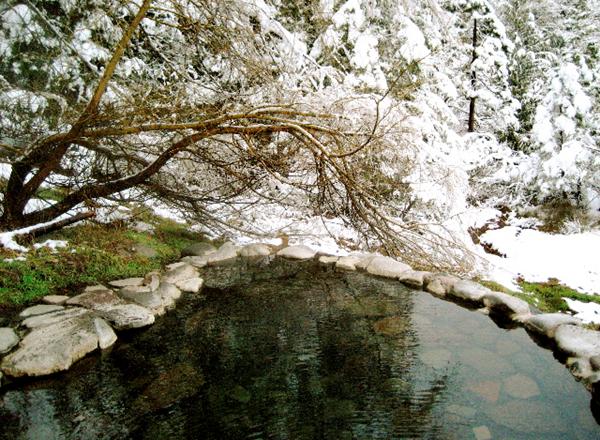 One of the meadow pools…
I almost starved waiting for the first Burgerville to show up on my GPS. It was almost 2pm by the time I got some food in my system and I was a little jittery from low blood sugar – I should have just stopped, opened the trunk and got some of the meats and cheeses out. Next time.
Got to Seaside at 3:30 to find an accident in the circle drive in front of the WorldMark , a line 10 deep at the checking counter, and my room not ready. Did all the paperwork and started the wait for the room number (they give you keys and then just call you with the room number). Apparently I times my visit for something called "winter break" as there are a TON of kids whopping it up in the pool.
Off to Safeway for some dinner fixings while I text SeasideBoy to see when he will be coming. Once again it will be a quickie as he needs to be home by 7pm. Sigh.
CaddyDaddy showed up a little after 4, and we finally got into the room at 4:20 – the start of cocktail hour.
A little fun and then he was back home. Sigh. There is always tomorrow.
Steaks off the grill for dinner tonight – along with a big salad and half a baked potato. I had to finish the wine after CaddyDaddie's single glass – they are still working on balancing his meds after his recent stint implant.
As for the rest of the evening, think unburying my inbox.
[? ? ?]