Up and out of the house to drop the car at Master Park and then hit the airport.
I'd forgotten the madhouse that early Mondays are at Sea-Tac. Even with the Priority Lane it took me half an hour to get through the mess.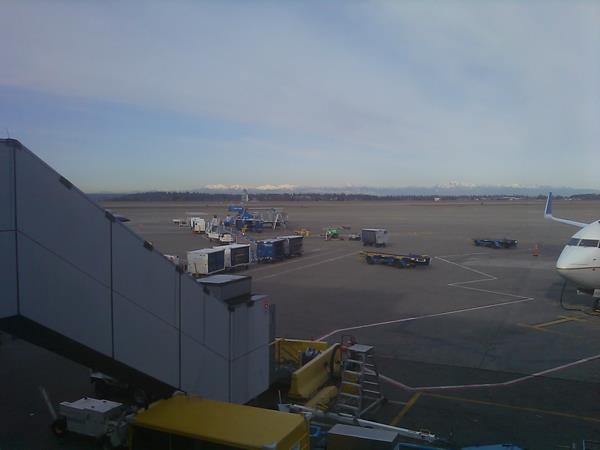 The mountains are even out!
Quick breakfast and Red Baron at the Board Room, then off to the N Gates via the underground shuttle, only to find "Delayed" listed on the board.
The delay:
First and hour
Then only half an hour
Onto the plane we go, all settled in and taxiing to the runway when the flight attendants come on the PA and ask "Do we have any medical personal on board?" Never a good sign. Then the Captain comes on – "We are returning to gate."
This isn't looking good for my flight connection to Hong Kong…. And it wasn't.
Arrived at for far end of one concourse Gate 85, then it's basically walk to almost the check in desks, take a right, then go to the international terminal. At least ½ mile if not more. I figure I'll do a lot of walking in Hong Kong so this is just practice.
Couldn't wait until they started serving lunch – was defiantly starving. Had hoped for some oysters on the half shell at SFO with what supposed to be a long layover.
Good flight even considering a 2-year-old lap baby alternating between the seat next to me and the one beyond that. Only howled c couple of times (and not for long) – not bad for a 14 hour flight.
Best perk – flight attendant couldn't find Glen Livet on the credit card machine so he just comped them – twice. Paid for the third round of two (remember – 14 hours) so I think I got my money's worth – 6 mini's for $14. Oh for the days when international flights had free booze. United is down to free beer/wine on its Pacific routes (not Atlantic)… and the wine is in plastic bottles, but at least is from the southern Rhone district of France.
Between the Scotch and the Ambien I managed to get 4 hours of sort of sleep – bless those noise cancelling headphones.
Arrived half an hour before schedule, cleared immigration fairly quickly, hit a cash machine for $900HKD (Hong Kong Dollars) and was off to the cab line with these wonderful instructions: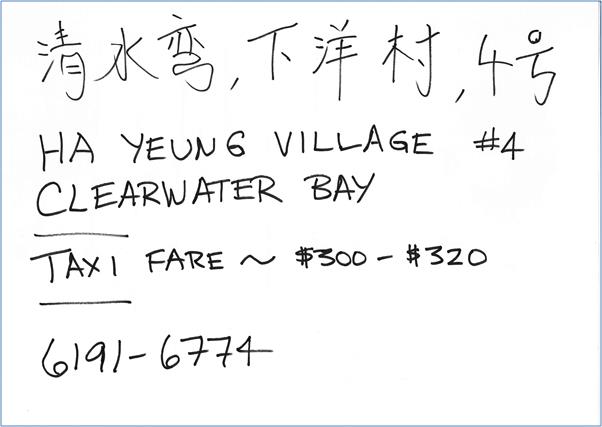 Of course it turns out that it's really #1 rather than #4 but it all worked out – and right in the ballpark for cost ($40USD approx.). Not bad for an almost hour long cab ride.
Got in around 10, Michael and I stayed up chatting for a bit since he doesn't have to work tomorrow – he swapped days to stay and hang out with me.
We'll see how the jet lag goes – I'm guessing OK since I'm going to bed at what would be a normal time were I in the states.
[210.4]