Time to open the shop this morning… and exactly two sales from 11am-2pm, and then the tasting started. That saved our bacon. Sold all but 7 bottles from the 5 cases, and took special orders for 3 more cases.
Luckily the bottles made it to 4pm – I was worried. What was really fun was that the importer was here to tell about the wines (as well as the distributor's rep) and he brought along a couple of "library" wines to try. Library wines are older vintages of the same wine that aren't in distribution, or very limited distribution. As he said, that the 2004 was a personal bottle of his, and the last one.
Then at 4pm the crowds dropped off so I was able to get off a little early and check into The Camlin for the night. The plan:
Cocktails at the Camlin (though not in the Cloud Room champagne glass that I brought to give to place for their little museum in the basement)
Dinner at DragonFish (to work on getting my sake punched)
Monorail to Seattle Center
La Bohomé at the Seattle Opera in my lovely box seats (last season for those)
Cab back to the Camlin
Nightcaps
Bedtime
All dressed up: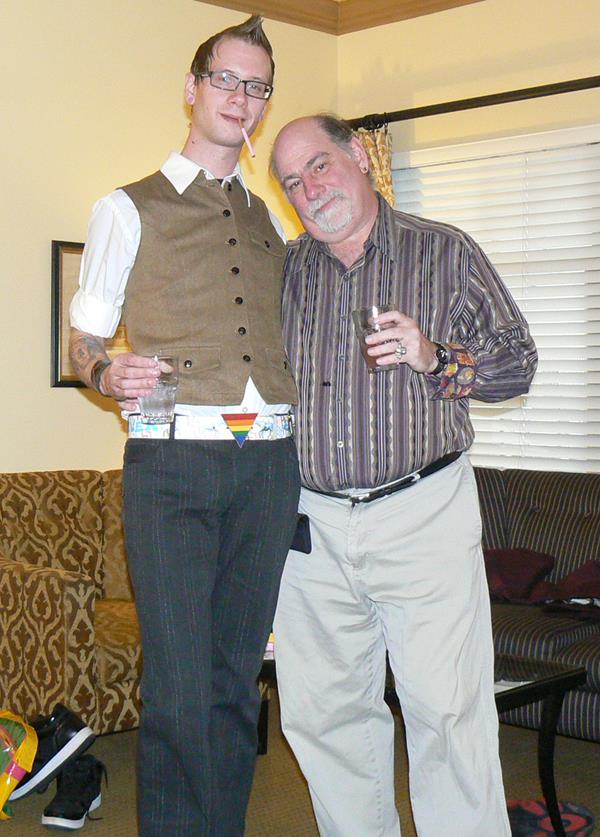 Hard to believe that he is 30. He got carded at the Opera House when we ordered drinks. Later in the evening (nightcaps) when I mentioned I was 56 he was shocked. Apparently he thought I was in my 40's — nicest compliment in a long time.
And on the monorail: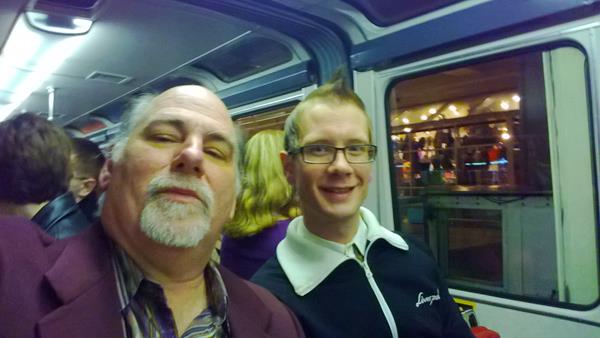 My big worry is remembering that it's Daylight Savings Time and not oversleeping in the morning since I have to open the shop.
[210.8]