Hong Kong trip number two starts again at 5:30am… this week's flights are timed differently because of daylight savings time, meaning I have more time for the layover in San Francisco. Which, of course, means I don't need the time.
Slept most of the way to SF which is good because I was up until 2am packing. Still feeling full from breakfast in the Board Room in Seattle, stopped by the Yankee Pier for a cup of clam chowder before heading to the International Departures wing of SFO.
Even had time to do a little duty-free shopping. This week it is the Jim Beam Double Aged Bourbon for $25 a liter. This time I remembered to bring all my 3oz containers to pack any leftovers.
An uneventful 14 hour flight – only one free drink this time. When I checked in, the seat next to me was open. By the time I boarded there was a nice, but plump lady occupying it. Oh well, it's only 14 hours.
The downside of taking the same flight two weeks in a row that doesn't span the end of the month is that you've already seen the movies:
Cloudfall (the latest Bond movie, which I hadn't seen in the theaters)
Life of Pi
Wreck It Ralph
And some movie about a guy to goes on the cage-fighting circuit to save the music department of a local high school. Sort of a bromance sort of picture.
The first three I saw last week. The last one this week. Luckily my return flight to Seattle is via Tokyo so a different set of movies for those flights. Downside is that for the Tokyo-Seattle portion is on ANA, which was supposed to be a 787 – and we know that isn't happening. The other downside is that EQM (Elite Qualifying Miles) for that flight is only 50% as is the contribution to Lifetime Flight Miles. Didn't know that when I booked, but I'll still be Premier Silver for 2014.
Smooth arrival, Hong Kong immigration never seems to take more than about 15 minutes, then it's off to find an ATM, and then to find the Hotel Transfer desk for the bus to Hong Kong Disneyland Hollywood Hotel – a very faux Art Deco style Disney creation. It was nice for Disney to welcome me with fireworks (OK, the show is at 8pm every night). Here is some of the detail work from the hotel: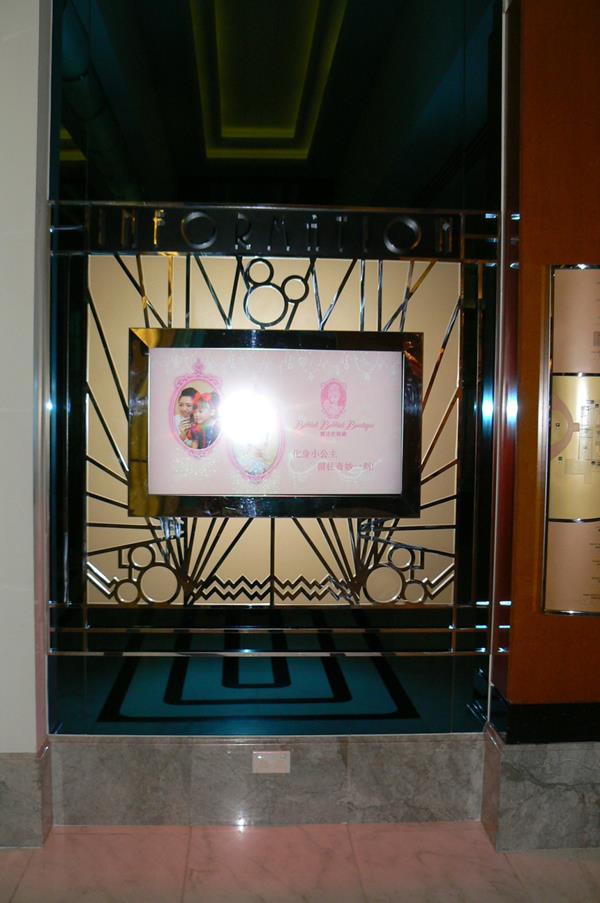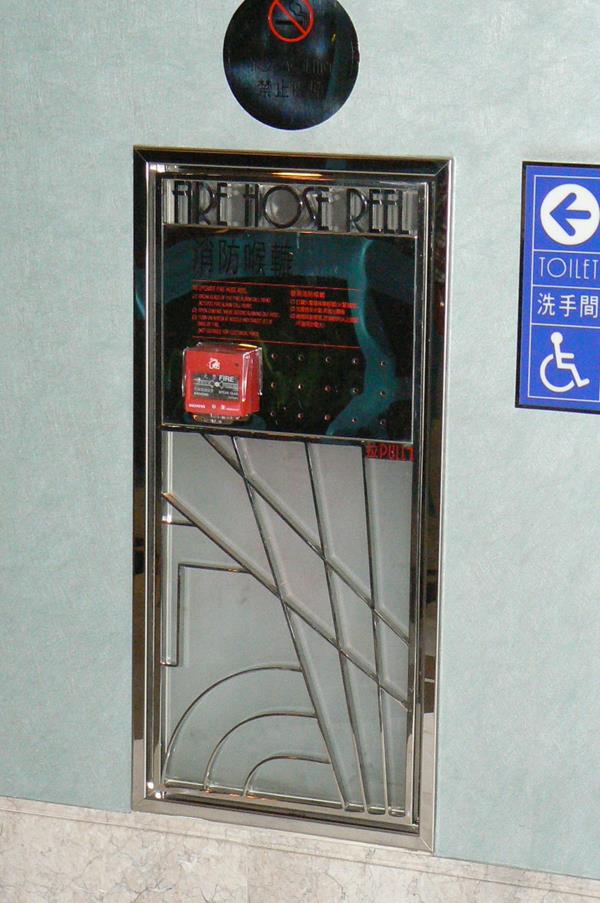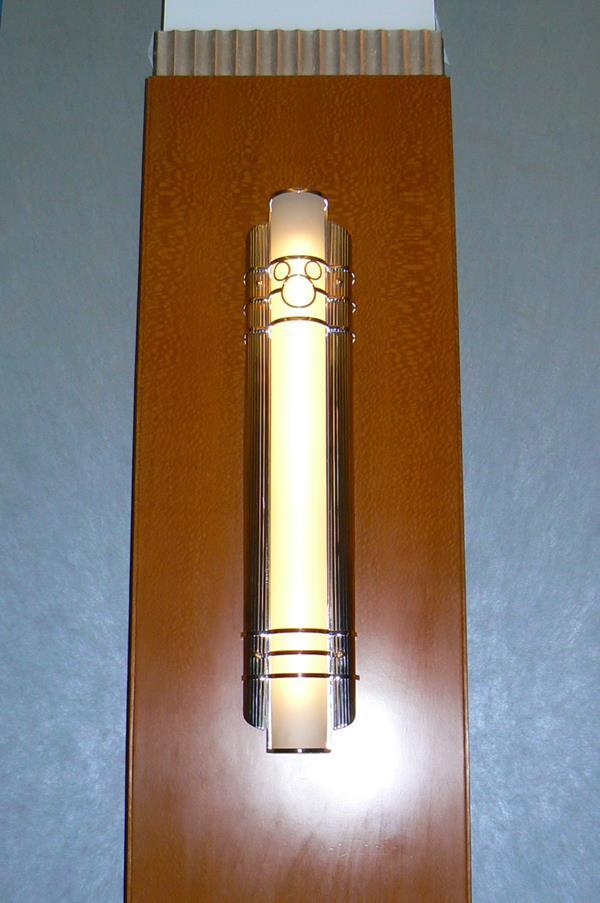 Wasn't totally hungry so I went to the bar for a light dinner. The other choices were the buffet (the Chinese are mad for buffets) and a limited menu quick dine option. Tons of kids in the bar, eating with their parents, so needless to say, there was a Disney movie on a big screen above the bar: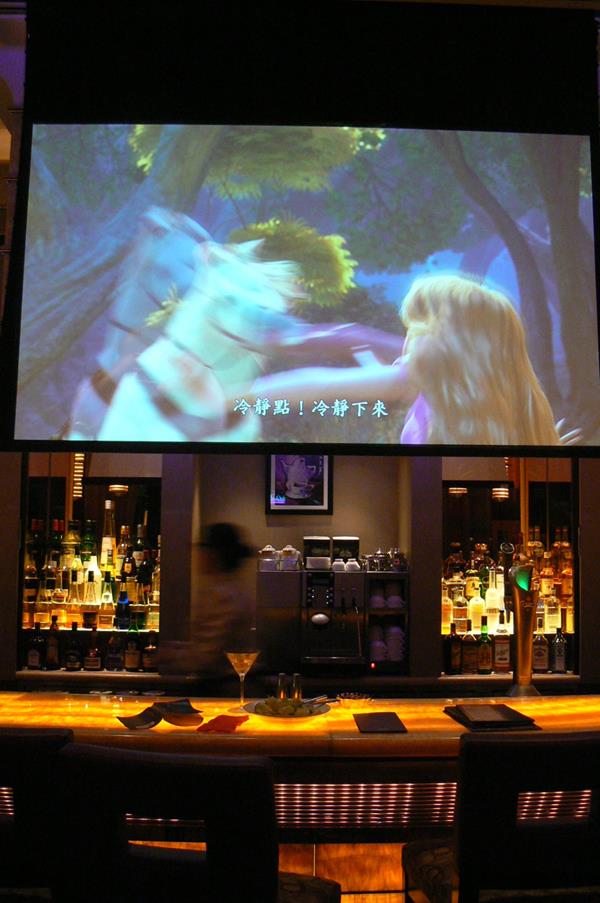 That would be my seat… with book, martini and tandoori chicken Caesar salad, complete with croutons in the shape of Mickey Mouse: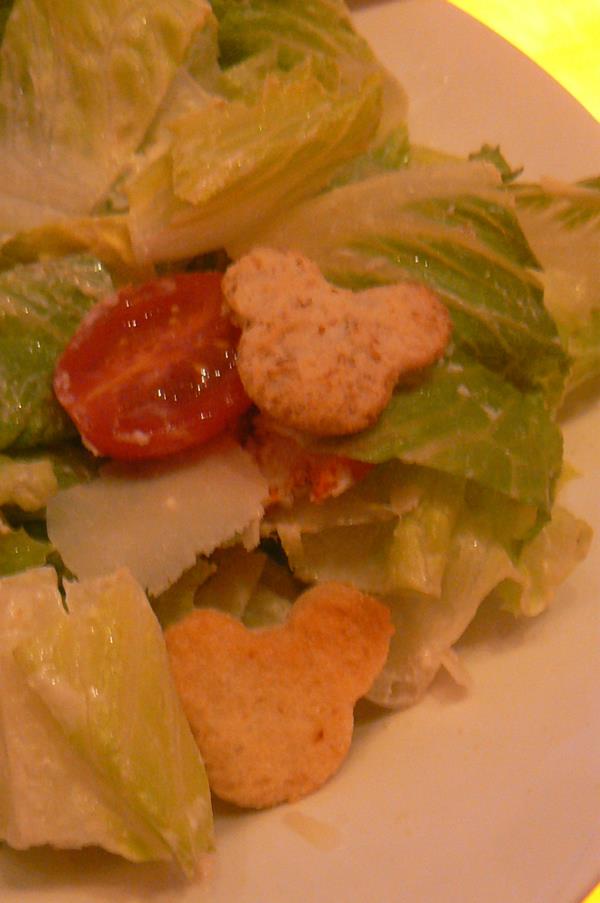 The salad was amazing good – you could actually taste the anchovies in the dressing – and the tandoori chicken was an interesting choice (other would have been salmon).
And this shot might be my new FaceBook profile shot: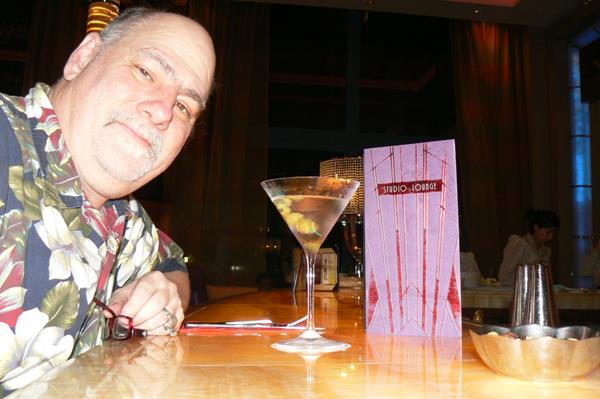 Going to bed at what in local time would be 11:30 or so – standard bedtime. Think I'll try it without the Ambien.
[210.4]