I can't add, or count calendar days – seems I'm working 16 days straight, not 10. So really the 6 of 16. I guess I can look forward to the cruise in May that I arranged off as part of the job acceptance.
First day off – the 8th of April.
Worked at the print shop, and should have come home and taken a nap, but instead I cleaned up the deck as the sun was out and tonight is BBQ. Swept, rearranged, drained the water off the top of the hot tub – might fill it up this week! But I've got to get another cover – the old one is looking… ugly.
Speaking of BBQ – Jill is the dinner guest for a small two-person mixed grill. Couple of chicken breasts and three lamb T-bones on the grill – add a salad (since Jill and I are in the high-protein, no-carb world) and a little wine, and presto.
Dinner was sort of a working dinner – Jill reading scholarship applications and then talking about how to turn a working business into a foundation that kicked off scholarships for college students. Sort of a great combination since she just graduated from the UW MPA program (I believe) with an emphasis in non-profit administration. Great conversation, more work to do. Who knows, I might get an ongoing job out of this, and Jill might get a consulting gig. Win-win.
My after dinner activity? Topping off the barrels in the barrel room: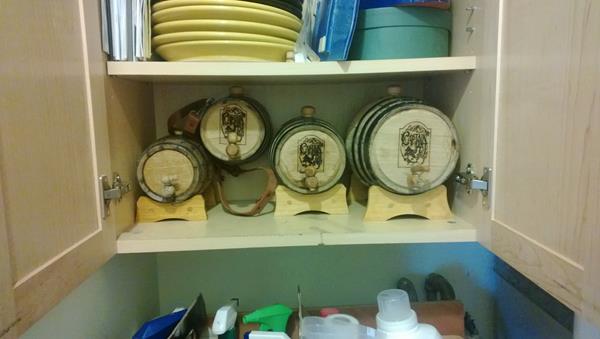 It took 1500ml to top off the four casks…
750 (on the left)
1 liter (with the strap)
2 liters
3 liters
Work tomorrow isn't until noon. No alarm tonight – whew!
[209.4]