It's always fun when friends swing through town on their way from London to Seattle to Portland to Denver, then Miami, Boston, back to Denver – at least that's what I remember the schedule being.
It's probably been ten years since we've have seen each other – was it on Lopez Island, or at their Pied-à -terre in Paris. I know it has been more recent that when I went to the Greek island of Sifnos for their 10 anniversary party since it's now been 23 years they've been together.
I found the general location on Google Earth: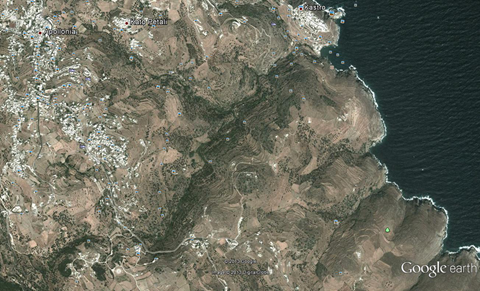 The town at the upper near right is Kastro, and their 6 hectare property (just shy of 15 acres) sits on the hillside looking towards the seaside town half a mile down a donkey path. The path in the other direction in half a mile gets you to the helipad.
With SurfBetty joining us for dinner and threw 4 smoked priprika links on the grill along with a couple of pounds of boneless country style ribs I'd been marinating all day. SB brought kale which he steamed, I did some asparagus on the grill, and a feta raspberry vinaigrette tossed salad made the meal.
Couple of bottles of French Red Wine washed it all down.
Damn fine time. Too bad SM leaves in the morning for the rest of his work trip.
[208.6]