Work was fine until CaddyDaddy's sister Pat rang my phone. He is dead. I'm guessing another heart attack – I was too rattled to ask details.
In his honor – a picture of us from his 2012 birthday trip to Hawaii where we stayed in the military hotel on Waikiki: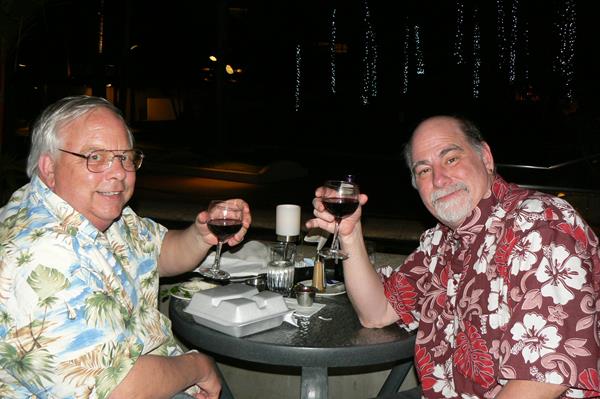 It's hard not to get misty eyed looking at this photo of us.
We were due to leave on Tuesday for LA, pick up a Princess Cruise to Vancouver and train home. Need to cancel his. FUCK. He was 15 days from getting his first Social Security retirement check which was going to give him the freedom to travel more. He had plans to take his Mom to San Diego, First Class on Alaska, in August – used my last Companion Fare Certificate that would work for First – and I was happy to give it to them. And then there is my Birthday Ramble that he was booked on: Seattle to Vancouver on one Princess Cruise, a night in Vancouver in a two-bedroom condo at The Canadian, then the next day off to LA on another Princess Cruise which we would have transferred to the Coast Starlight for the ride home in a Family Room (the wide one with windows on both sides of the train.) FUCK.
RIP dude.
The rest of the day was a bit of a daze. After work it was Ballard Licensing to either:
Transfer the title on the Focus and order license plates, or
Get a trip permit if it needs to be smog checked.
Unfortunately "B" and $30 later, it's a trip permit for a car that the battery isn't holding a charge. Guessing need new battery, will charge tonight and drive to work tomorrow – with the battery charger handy (and park near the front door).
Company for dinner tonight – Swanda (who leaves tomorrow to visit his mom for her 90th) and Long, a Vietnamese CouchSurfer currently going to school in Cincinnati but going home for the summer. He's here for a handful of days. Oddly enough it's nice to entertain tonight, though with Swanda's bad work day, it took some convincing. It was good for both of us.
Did steaks on the grill much to the delight of Long. Guessing most of that has to do with having no cooking skills and being a broke student.
It was a good end to a bad day.
[204.8]