When asked what I did today, the answer is "a whole lot of nothing". And that isn't a bad thing.
Bought a bottle of Jameson's at duty-free — bought a jacket (50% off) because I've been cold for days, and it will be handy for movies under the stars tonight. Probably will need it in the morning, but not the afternoon tomorrow in Vancouver.
Had breakfast delivered to the room — two egg mcmuffiny things which I removed the muffins from, along with coffee. Did lunch in the buffet as the restaurant I wanted had a long line, dinner with Jill and DancingBear with the Beef Wellington amongst other things.
A little nap in the afternoon and the evening was filled with cocktails in the Skywalker lounge (had to use the free drink coupon) with a bunch of the boys, then the dinner, then The Hobbit under the stars, then back to the Skywalker lounge for the LGBT, which on this cruise is really G, hold the BLT.
Today's pictures are from the screening of The Hobbit: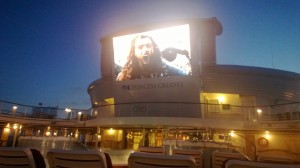 Mind you, I'm not a big fantasy fan… but here I am bundled up watching: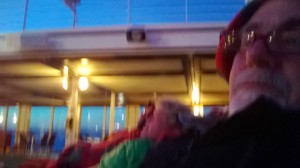 That would be a fuzzy Jill to my right.
Again, up too late, but with a 6am wakeup call. Now to figure out how to kill a day in Vancouver whilst waiting for the train home.
[? ? ?]