After work today I was running errands around town, one of which was to Pacific Iron & Metal to source a piece of aluminum for the trailer bed. Needed a piece 40×48. Popped into their outside yard — lots of diamond plate, thicker than I wanted. Looked like I was going to have to have them cut a larger piece to size… and then I spotted a palate with a couple of dozen sheets on it. We measured one and found it was…. 40×48. A little thicker than I wanted, and 23 pounds so a little heavier, but he cut me a deal on it. Only charged me 20 pounds (at $2.50 a pound).
Next up is to bolt it to the trailer: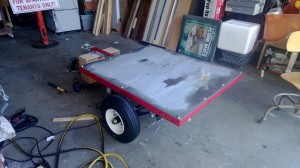 It's going to get painted red so I won't have to get the slight corrosion off  of it. Now I just need to go in and cut out the stake slots. That will be the project for the rest of the week.
TokyoDave wa supposed to be on a 6:30 flight — just perfect for having dinner, but, alas, his United commuter flight to ORD from STL had a mechanical, so they put him on the Alaska SLT-SEA direct flight that arrived at 8:30. Make that a late dinner.
With talking until 1, we aren't getting much sleep tonight and I need to take him to the airport in the morning.
A VERY quick visit. He's off to Portland and then the Bay Area.
One last ODD note. They picked up my recycling this afternoon… on a Tuesday (Wednesday is my usual day) and on the wrong week (recycling is every other week). This is the second time it's happened — and it's sort of handy since I've been bringing home all the empty boxes from the shop.
[206.4]