Amazingly we had sausages left over from last night, and this morning they are in the breakfast scramble this morning…. And then it's on the road for this boy.
I've got a 3pm appointment for a hitch install on the Focus.
Got there a little before 3 with the announcement that it might take two hours. Need food. Only thing close? Mini-mart. Answer? Deep fried chicken gizzards (are we in the south?) and jalapeño poppers.
And as I was reading the Wall Street Journal in the back of a trailer (I needed shade)… 45 minutes later, the hitch was installed: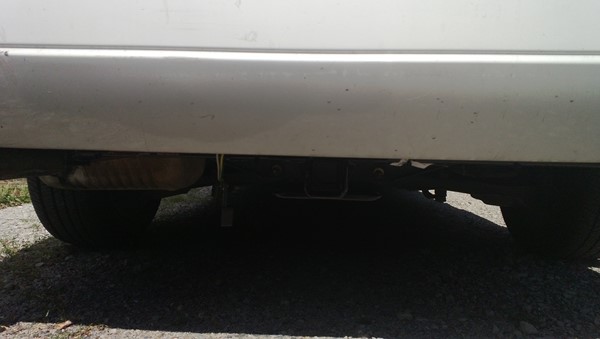 Sorry for the bad pic – there is actually a hitch there. Now I need to order a ball.
In the garage, another couple of coats of red paint on the trailer. Still need to put the fenders on and do the wiring.
Maybe tomorrow.
[? ? ?]