11pm to Young's Market, a Columbia Beverages store to open a wholesale account to avoid split case fees. Got some sake, punte mas (Italian Vermouth), and Regan's Orange Bitters – but the two wines from Columbia that I wanted they didn't stock so Jim is going to have to track down a sales rep since ours went to work for another distributor.
2pm at the dentist for the thrice yearly $300 fleecing
3:30 at home putting on the final coat of red paint on the trailer, and getting it's fenders on: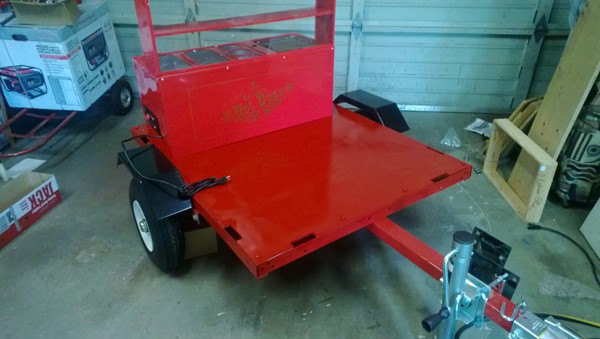 Yes, that is the hot dog roller sitting about where it will go, though it will be raised about 9 inches so that the roller height is 36″ – and it will allow me access to the steam table drain.
Next up is the wiring for lights – got the brackets painted a nice matching black.
Just a quiet chicken breast over a bed of greens kind of evening.
[210.2 – damn road trip food]