9:30 flight this morning – lucked out, got the preTSA line which United was nice enough to print on my boarding pass so I knew what to expect.
A car-heavy breakfast in the Alaska Board Room, then off to the other end of the terminal for my United flight – frequent flier miles.
The Board Room in Seattle.
Portland airport.
Lunch in the Eugene airport.
They didn't pack enough bourbon on the plane… and it was running late so my final leg, DEN to SAF won't be happening today. Missed the connection by 15 minutes. Luckily I'd texted Dan and he was shortly at the airport to meet me and give me a place to stay for the night. No vouchers from the airline since it was "weather" related – Our plane couldn't get out of San Francisco. When I enquired about getting my bags the Bag Lady said that if I really wanted them I could get them…but it would take 2-4 hours to track them down. Guess I'll be wearing the same shirt tomorrow.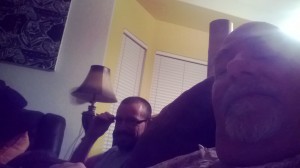 On the couch ad Dan and Lisa's place…nice to be able to see them two weeks in a row.
[? ? ?]