This is the day that I haven't been looking forward to – my Father's Memorial/Celebration – the final bookend that started with CaddyDaddy's Memorial/Celebration on the first day of the month. Not liking June much these days.
Short and sweet, the service. Learned things about my father's Armco career about what he actually did. One of the speaker's was someone who he had hired 30+ years ago. Learned about my Aunt and my Father's developing relationship over the years – they were 10 years apart (Aunt under). Learned that it's really a GREAT idea to hire a Jazz Combo to play upbeat music (custom play list) after all the speeches. Thanks Jen (sis-in-law, dead brother's widow). Homemade snacks and Jazz, not a bad combination: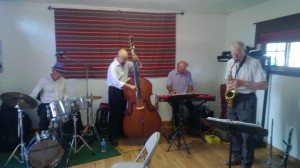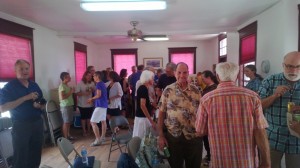 After most of the people cleared out, it was back to the "Saints" house (My sis-in-law) for yet around hanging out, drinking, eating, swapping stories, catching up. There is definitely a benefit to scheduling something 6 months after the dearly departed passed. Cheaper airfares, people out of school, the works.
Again, home late, with too many carbs in my tummy.
[???]