Out of the condo a little after nine, another lovely stay at the WorldMark. Off to RonneyMacs for a couple of breakfast burritos – yep, more carbs. Bad Uncle Markie. 52 carbs to be exact.
Hung out with Mom for a bit before Jen and Karen showed up to run me to the airport. Mom mentioned wanting to do an 31-day Eldershostel trip, now called Road Scholar, to Hawaii and Polynesia, etc. starting this December 15th. Looks like fun.
Itinerary Summary

Arrival San Diego, Calif., 1 night; embark ms Statendam, 30 nights (ports of call include Big Island of Hawaii, Maui, Oahu, Christmas Island (Kiribati), Bora Bora (French Polynesia), Raiatea, Tahiti, Moorea, Rangiroa, Nuku Hiva); disembark San Diego, departure.
More details here: http://www.roadscholar.org/n/program/summary.aspx?id=1%2D6FEQLJ
Got to the airport in plenty of time – and as they always do at the Santa Fe airport, they opened and swabbed EVERY checked bag. Can you say "too many TSA Agents, too few passengers". Just in case they gave me grief about all the booze I'd printed out their regulations which say no more than 5 liters of hard liquor per bag – I had 4.70 liters.
After I checked in, walked over to this old Yugoslav jet parked on the tarmac (well, I was behind the fence). As you can tell from the Red Star it's from the Tito communist era.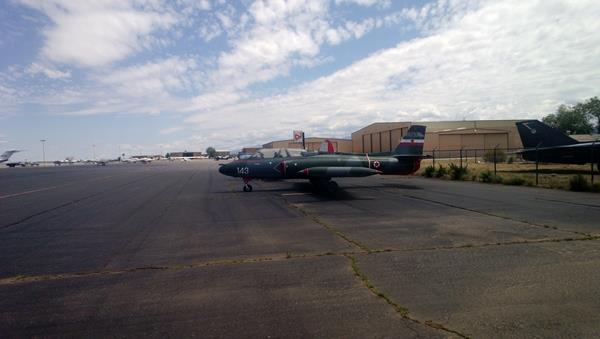 The other interesting aircraft, that was actually working was this baby: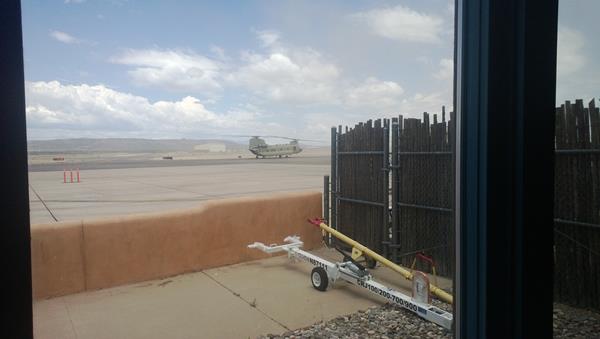 Lots of aerial firefighting equipment in addition to this one.
Lisa met me at the airport – a little delayed because they parked us 3 feet from where we should have been – 20 minute delay, more reading for me – and the knowledge that my bags would be waiting for me on the carousel and they were.
Lovely dinner with Dan and Lisa: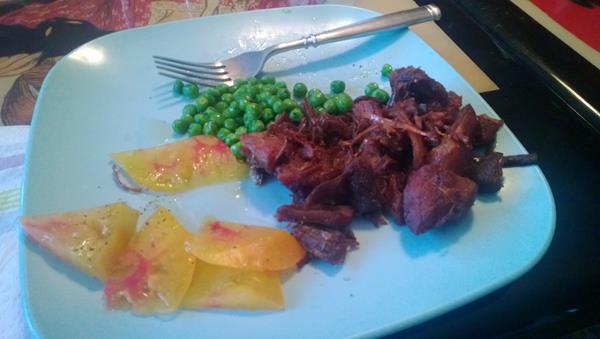 Home-made carnitas, heirloom tomatoes and peas. Yum.
Late night (as usual) of gabbing away.
[? ? ?]