How nice to have no schedule other than helping Dan around the house – which means sleeping in until whenever I want. Bliss.
On today's chore list:
Swap the garage fridge for the kitchen fridge
Run water to the new kitchen fridge
Stabilize the backyard fence
But first it's off to Home Depot to return some things, then King Soopers for tonight's steaks, back to Home Depot for a Depot Dog and the waterline for the icemaker hookup, then to Total Beverage for some discount booze:
Wild Turkey Rye –$19.98 (was $21.98), a lovely Rye to make Manhattans with
Downslope Vodka — $15.48 (was $26.98), it's a Colorado Vodka, must share with Swanda
Glenmorangie Qunita Ruban — $43.98 (was $69.98), Scotch that's been "extra matured" in Port Casks
They had a Glenmorangie that was "extra matured" in Sauternes Casks, but that would have been another $25 or so. Felt like I was splurging enough on the Quinta Ruban.
Back at the house fridge moving is the first task – to which BOTH refrigerators need their doors removed, one of which has a front panel display with ice and water.
Here is a shot of both fridges in the kitchen/dining room: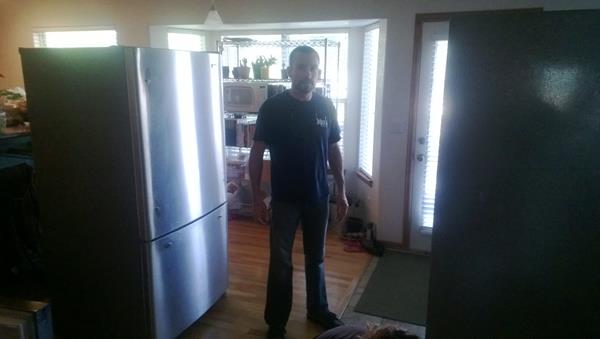 With both fridges unloaded of their contents and moved it's time to install the water line for the icemaker… which was going well until I broke the t-handle off the self-tapping valve. And then no water coming out so removed the self-tapping valve and drilled a hole (after turning off the main water supply), reassembled and 'viola', water. After getting the doors back on (can't move it back in place with the Fridge door in place) and getting the fridge reloaded…. Another problem – the window sill juts out – time to pull the sill and put a bull nose on that corner. Dan declined my suggestion of just ripping it down and making it flush with the wall. But it's done.
Success. Time for a round of Martinis made with the limited release Tangueray Malacca Gin which they haven't made in at least 10 years. A Souder family (Mom, Jon, Me) favorite.
Then it's time for a wonderful steak dinner with a bottle of the 2002 Bonny Doon Old Telegram – perfect for the steaks. It was as lovely as I remembered the Old Telegram to be.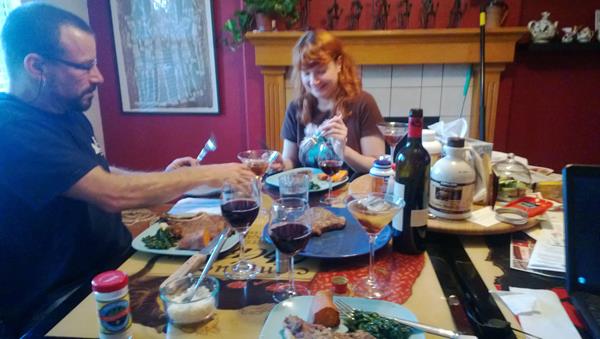 After dinner (damn long days) it's to start shoring up their back fence – got some of it done, so a little more for tomorrow is in order.
Again, stayed up too late.
[208.0] And it was a balance scale so I'm amazed that with all the carbs in Santa Fe that it wasn't over 210.