And we are into the home stretch with the trailer: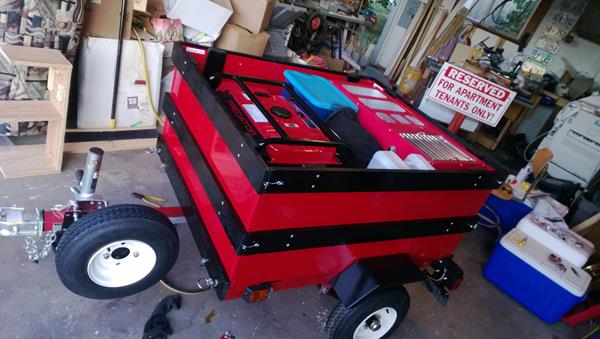 Just need to run to Home Depot for a tarp and rope/bungee cords. Whew. Sunday after work I'll do the shopping for:
More dogs (have 52 now)
Buns to match
Chopped red and white onions
Everything else is in the fridge waiting, including a couple of bags of shredded cheese I found on the 50% rack the other day.
Worked the Friday shift at the shop – lots of deliveries, including three cases out of the front end of a Porsche driven by one of our reps. Something tells me he had money BEFORE getting into the wine business. A slow day for a Friday, but there are 10 cases of special orders in the back waiting to be picked up.
A quiet dinner of a pork chop and salad and wine – made two of the chops, one for tonight, one for tomorrow lunch at the shop.
[205.6]