Good Sunday at the shop…seems we are on a run. Is it "Sunday Sippers" or my sales skills… jury out.
Stopped at Safeway on the way home from the shop – last minute shopping at Safeway for:
Cheese Brats (to balance out the Ball Park, chicken, turkey franks)
Red/white onions
Pupu Platter cheese
Fish for dinner
Add to that I stopped by on the way to the shop for hotdog buns at the Franz (Bakery) Outlet Store for a lot of buns… got the 55+ discount. She had to ask several times if I was "over the hill"… apparently my hearing is going as well. Too bad there weren't any onion buns (they only come in hamburger) or potato (twice the price of the plain). 2/$3.00 for eight bun packs… think I got like ten bags of buns….
A little food in the belly, intermixed with some packing… got the trailer ready to roll (and checked the wiring):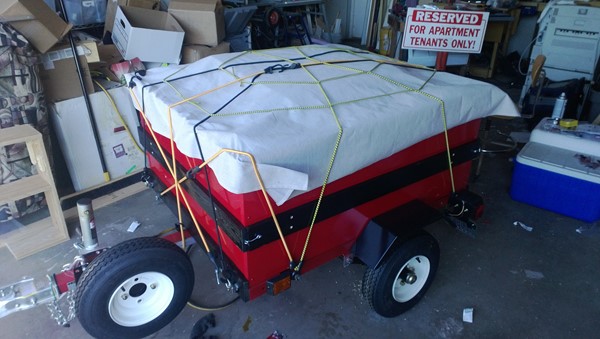 When I get back from this trip I have to make a lid for this thing…
And here is what the back of the station wagon looks like after stowing all the gear: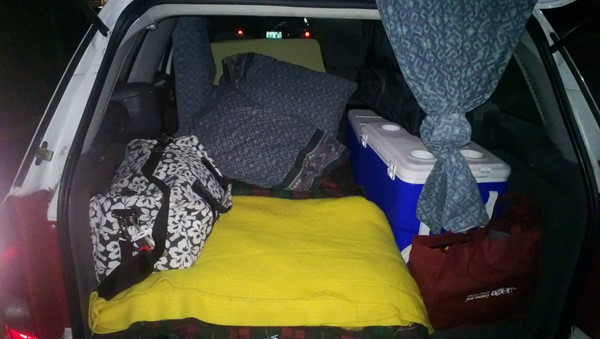 Rundown of items in wagon:
Overnight(s) bag with clothes, camera, reading material

Two blue Coleman coolers

One for liquid refreshments

(12) cans Diet Coke Caffeine Free
(6) cans Diet Verners
(3) Rosé Vinho Verda
(2) bottles of white
Brie, Paté, Cheese log for Cocktail PuPu Platter

One for dog stand supplies

6 packages of various dog-like products (beef, turkey, chicken, pork cheese wurst)
Condiments
Cheese, kraut, mini-bell peppers, mixed red/while chopped onions

Bag of dry goods (luckily all the buns are in the trailer)

(2) cans of chili (Amy's Medium Hot Organic [2/$5.00])
(2) bottles of shine
(1) bottle of red wine
Gorilla Velcro (for the curtains?)
(4) Cocktail drinkware

Bedding, tons of pillows, bunches of blankets
12×12 Canopy (to use at the end of the station wagon as a "dry" area, though with the weather, I'm thinking more sun shade.
Fried up the fish for dinner with last night's leftover salad for dinner, along with the end of the tasting wine from today – apparently it wasn't enough as a "taco truck" run was made around 10:30 (they close at 11).
Finally done packing. Yeah!
[204.8]