With the all in one Italian washer/dryer combo I have, it take many small loads to get them to come out dry. On the upside it uses something like $4 a year in electricity.
Sheets are done for the guest bed – I'd just moved to whole guest bed mattress into the station wagon for camping. That also led me to clean up the office a bit – still needs way more.
After I got the station wagon completely unloaded (yes, I'm slow) it was off to the car wash – yesterday I took the Miata through – both were looking seriously dusty (the downside of a semi-industrial neighborhood. Now what I REALLY need to do is clean and organize the garage so I can get both the Miata AND the Weiner Wagon to fit.
Dinner with Magnatrocia tonight – a simple meal of pork chops, salad and fresh bread (for Mags).
And just because I stumbled across this cell phone picture… Mount Rainier as seen from the Safeway Gas Station in Enumclaw: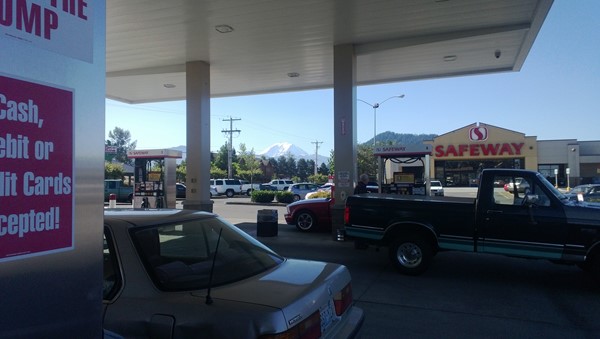 [206.4]