Up an Adam to the shop. Got a full day to sell wine and update various blogs with our upcoming tastings and art openings.
The usual 5pm rush – I just count on not being able to get out right at five, though tonight it would have been handy since I have an invite to Jim's for dinner.
Unfortunately we didn't have this bottle for dinner…this is what Jill and her buddy Dave from Hawaii were drinking tonight: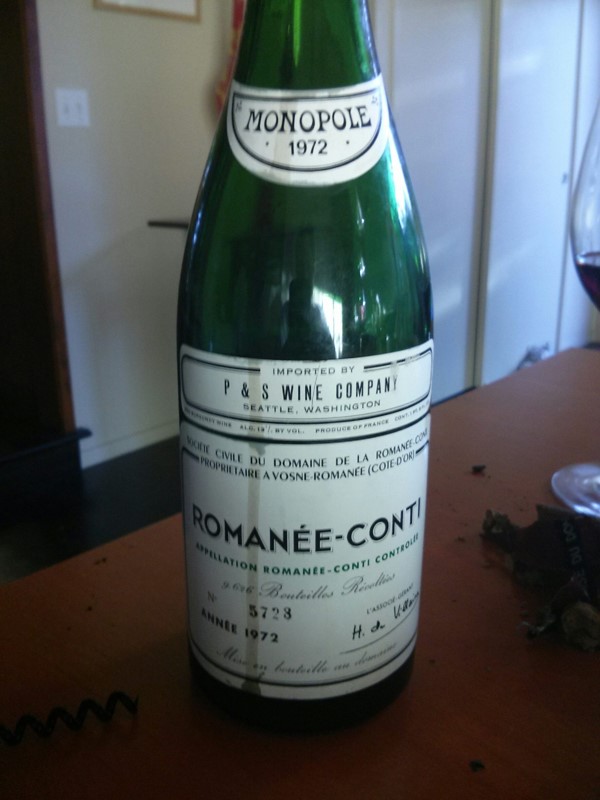 Jeff, who was also at dinner sold his 1990 Domaine Romanée-Conti for $10,000 six months ago… he could have gotten more if he had complete providence that it had always been cellared. Oddly enough when I looked up the 1972, it was only $2600 (http://www.klwines.com/detail.asp?sku=960116), but then when I went to Wine Searcher the 1972 average price was $9019 (rated 88/100 points) and the 1990 average was $20,513 (rated 98/100). Wow. Guessing the KLWines price was from when they originally had it in stock.
Back home early since we ate early. Whoretense swung by to pick up a little gift that I found him at the Chicken Soup Thrift Store (technically these day, the Life Long AIDS Alliance Thrift Store).
[208.0]