My day:
UPS to drop off a pre-posted toner cartridge for recycling
Young's Market (wholesaler) to pick up some pricey Vermouth for a customer and some for me (retail, $17 a bottle)
Post office to put Jon and the boys packages in the mail
Home Depot for bolt/nuts to pix the back gate – turns out I need two more sets, damn
The shop to drop off the Vermouth and leave a sample for Jimmie (he said it tasted like those root beer candies)
UW Surplus to see if I could find an organizer – I did, but it was in the hands of a women who had just bought it. Damn
Burger Master for my occasional diet slip – patty melt
Home and worn out. Tried the Vermouth in a Manhattan with Even Williams and Jim's marinated cherries. Tomorrow I'll try it with the moonshine.
And now I have a favor to ask – anyone know what kind of car this is? It has a firebird/thunderbird like logo on the trunk.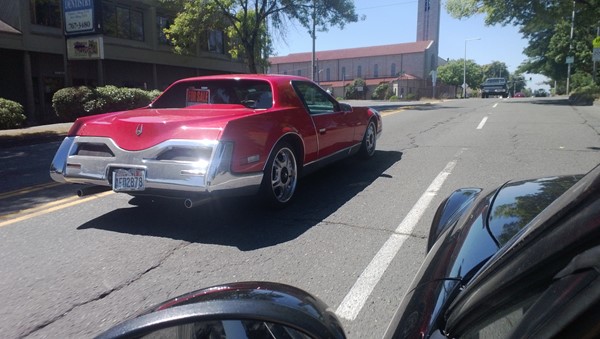 If you need a larger picture happy to email you one. If it just weren't red – can't abide red cars.
[206.4]