Arrived in B'Ham at 7:30, or was it 8:30 – who ever knows when it's a red-eye flight.
All I do know is that after those flights into Bellingham I always pull off at the first rest stop and sleep for an hour.
Traffic was a mess – probably since it had just rained – rained so much that the Battery Street tunnel flooded – ruining my chance to detour off a clogged I-5.
The mess took away half an hour of an afternoon nap I needed before heading to Denver at 5 – and no upgrade either. Sad.
And then there was the amusing rental car situation. I booked an Economy car – advertised as a Fiat 500 (or similar). I was looking forward to driving one: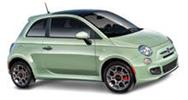 Of course they were out of those and the smallest thing they had was: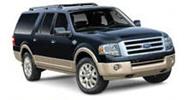 Seriously, a full sized SUV. I notice they didn't give me the Mustang on the lot.
It did have this nice feature – you could plug anything in:
I didn't get to Dan and Lisa's until after 10 so it was a short night – which is good since I need the sleep.
[209.8]