A good day dollar wise at the shop for a Sunday – about half of what Saturday's sales were.
Getting excited for tomorrow's trip, but alas, no upgrade by the time for check-in. Sigh. Maybe at the airport, but doubtful. The problem is that the flight is a one-stop which means they need an open seat on BOTH legs to get me the upgrade since they can't split the ticket.
Still deciding on which luggage to take – know it needs to be a hard-side but don't know if I need the hand-truck bag or not. Then there is which briefcase – wheels or shoulder bag. Final decision – hand-truck bag and wheeled briefcase.
For those of you that haven't seen it, here is what the hand-truck hard-side which is a Porter Case: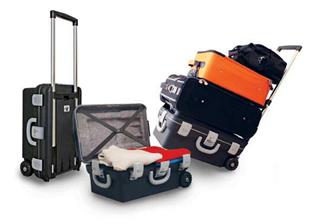 Might have to upgrade to their new version with the TSA locks.
Had a nice steak for dinner – knowing that that most likely won't happen in Cabo.
Stayed up WAY too late for someone getting up at 3am to make his 6am flight. What WAS I thinking when I booked that!
[206.0]