3am is very early in my world. At least the check-in line was short and the TSA-Pre line non-existent. No time for the Board Room this morning, they open at 5am and my flight is from North concourse so not worth it. Had a decent breakfast burrito in the main hall, then it was off to my N gate.
It was about this time that I realized in choosing a briefcase, I chose the one WITHOUT the laptop power supply and mouse. SHIT.
$65.00 later from the Hudson Newstand in the North concourse I have a universal power supply. No mouse, but I'm sure I can pick up a cheap on in Cabo.
Number one on the upgrade list so boarded the plane and took my seat in 6D. Ten minutes later they came on board and moved me to 2F, a window which I don't really prefer but it's a seat in First all the way to Cabo so I ain't complaining.
They made us (all the Cabo-bound passengers) get off in San Jose while the "checked" the plane – haven't had that happen before – maybe it's just for international flights.
Didn't have the meal on the first leg as that burrito was might filling, but did have the airline version of eggs benedict which was quite tasty on the second leg.
Some pretty clouds outside the window – the result of the tropical storm that nailed Cabo San Lucas a couple of days ago: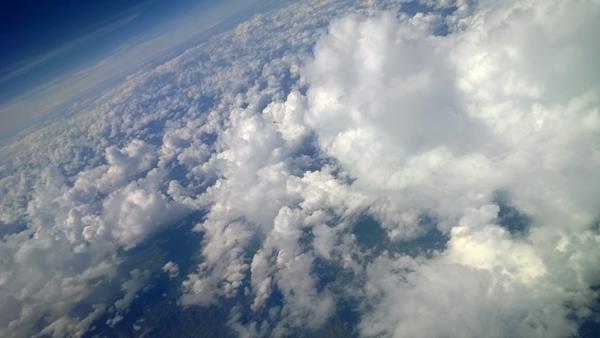 A pretty day in Cabo…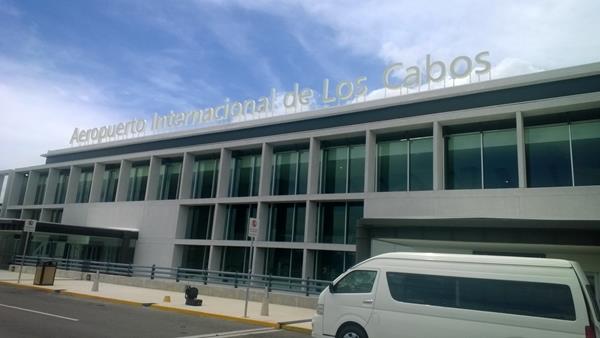 Think 85 degrees or so…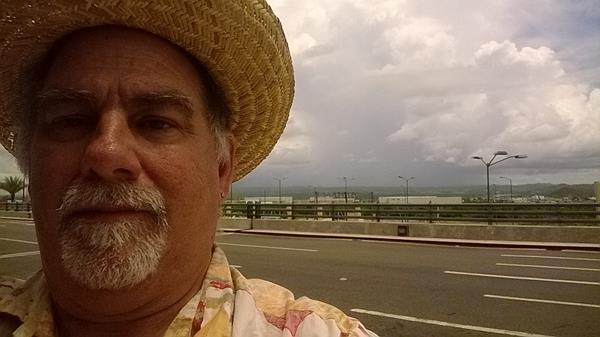 Must not be on vacation yet as I am looking very stern.
Dan and Lisa picked me up at the airport and we were off to the heart of Cabo where Cabo Villas is located – but first stops at Costco for dinner fixing (and a hot dog combo) and WalMart for salad dressing, Coke Light (what they call Diet Coke down south), and a cheap purple $5 mouse.
The view from our unit – ocean front!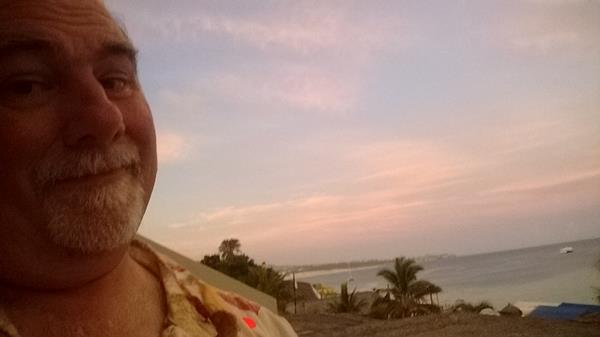 Starting to look happy!
And from Caba Brewing on the top floor of the neighboring building during a meet and greet with the other owners, free appetizers, free margarita, and prizes which we won none of.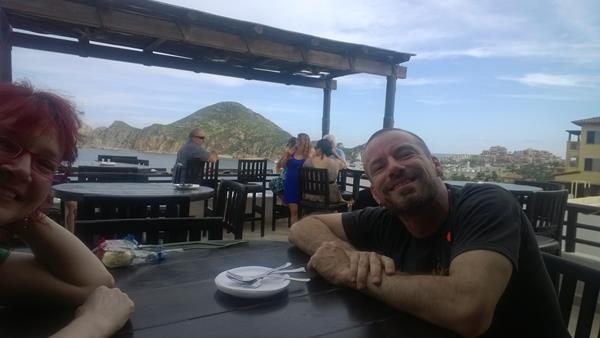 I think there was a similar picture of CaddyDaddy and I in about the same spot last year. RIP CD.
And the view from our unit: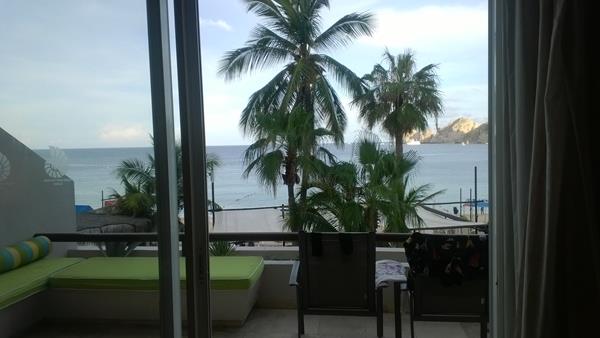 Pretty nice.
Dinner was a Costco roast chicken and salad. After dinner it was time to turn the chicken bones into stock (and or soup).
I'm sleeping on the coach – Dan and Lisa are in the bedroom – luckily the couch is pretty damn comfortable even without folding it out into a bed.
[207.0]