Well – I was out of the condo at 11 – I should say we as it was all of us.
After a little traffic snarl I was to the airport around noon. Check-in was easy – and off to the terminal go I.
Free Wi-Fi courtesy of Carl's Jr. in Terminal Two – remodeled since I was here a year ago – which Rich was here to see this. I have access to a VIP Lounge via my Chase Ink card but chose not to use it since the departure hall is so nice.
The only glitch was when I was boarding and she scanned my boarding pass and I got a big yellow message – Secondary Screening – in theory random, or so I thought. Here is what you will see on your boarding pass before the poo hits the fan – notice the SSSS (Secondary Security Screening Scumbag is what I translate that to):
Lovely Homeland Security stamps on there – OFFICIAL, not just the usual check point stamps.
Here is the description of the trip I posted on FlyerTalk when I went to look up what "SSSS" meant on a boarding pass:
Out of the blue on my return trip from 5 days in Cabo San Lucas my ticket is branded with SSSS. This for a Nexus/Pre/Global Entry traveler.
On the way down it was Pre in SEA, on the way back, didn't realize the code on my boarding pass, but soon guessed it. In Cabo they swabbed everything down and put the pads into their portable nitrate readers… with no response — dead batteries (saw them swapping them out as I boarded). Boarded OK. In LAX running 15 minutes behind, used Global Entry though the passport reader wasn't working… but there is a manual way to input flight info — fingerprint worked and I was on my way to be screened again for the LAX-SEA (a process I find annoying — just put officers in San Jose like they do Dublin, Toronto, Vancouver, Edmonton, etc)
And then the fun began — a) no pre- line b) the freaked look on the initial check person, c) no communication between staff and they almost let me go through the just metal detector line rather than the back scatter which I TOLD them they wanted me in the back scatter line, d) trying to test my McCormicks Montreal Steak Seasoning (Costco size) with liquids to detect god knows what — and she didn't seem to know how to use the liquids or what to look for. Heard comments about "having to call it in" and some phrase "shielded" or something — took it to mean to not let me out of their site.
Bottom line — 30 minutes lost that I could have been happily eating and drinking in the Board Room (Alaska flights).
Details: round-trip paid ticket, free upgrades. Yes, I like bulkhead aisle in First Class (apparently another flag). Personal not business trip. Carry-on only (another flag — 5 days to holiday vacation and no checked luggage?)
All that said — the renovation of Terminal Two in Cabo is GREAT — free Wi-Fi from Carls Jr. with the wifi code: areasmexico

Oh, and there were TSA Agents at the gate in Los Angeles just in case I'd made it through all the gauntlets.
The only bright side to this travel day was a lovely man whose name I learned later was Eric. I saw him in my brief visit to the Board Room in LAX for a quick drink, cup of soup and a couple of newspapers. I found him sitting in front of me in First Class on the flight to Seattle: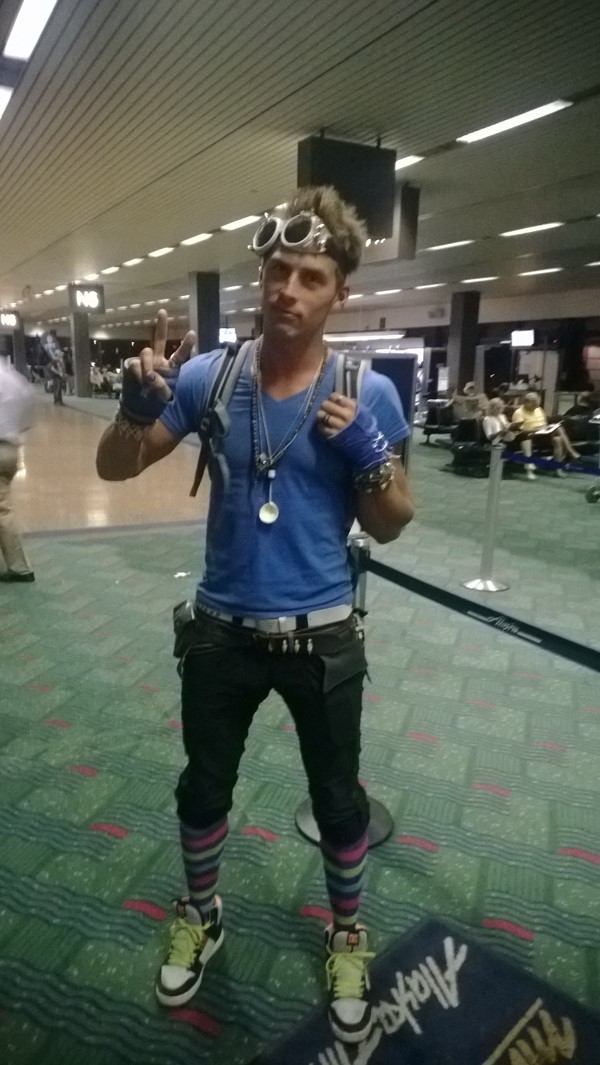 He is a Seattle boy living in LA – probably older than he looks since I saw crow's-feet around his eyes – returning home for the weekend to cave crawl with old friends – probably not in that outfit. I commented on shoes talking custom shoes – his are stock and tight (I like mine loose) because he tends to do acrobatics – as I would with that body. Too bad I'm way too lazy to maintain mine.
Stopped at Safeway on the way home for groceries I might need – and lots that I didn't but can use, like a dozen or so of stuffed olives at 50% off.
Actually weighed myself at midnight to see how bad the vacation was on my weight – turns out, not bad.
[205.4] Less than I left town on.