Today is my monthly work Friday – and it wasn't too bad of a sales day, broke four digits which isn't bad for a Friday.
SalamanderHellbender showed up around 6:30 to taste some wine and take me to a thank you/birthday dinner after work – unfortunately it started to rain before I noticed – and the top was down… we went to the restaurant sitting on wet seats.
Dinner was good – at the Elysian Fields. SM had the French Dip, UM had the South Carolina Pulled Pork Sandwich (mustard style) – and we were both good and had the salads.
Got home around 9PM (after swinging back by for the old icemaker – put the new one at the shop) to the unpleasant task of getting the car to fit back in the garage WITH the Weiner Wagon as well.
A lot of rearranging and we have this: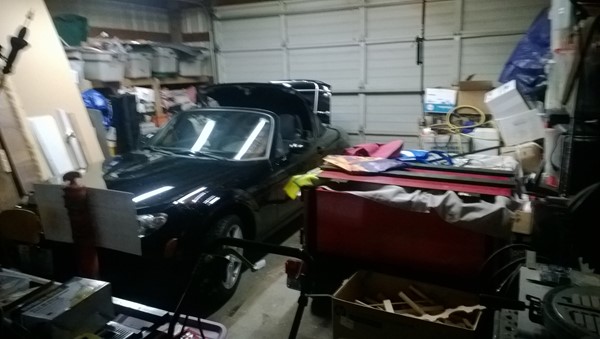 As you can see, the top is cocked, the trunk is open – really trying to prevent mold from setting in from its unexpected bath.
Finally got packed – and of course stayed up WAY too late, again.
[204.0]