Another boat ride, another couple of lines: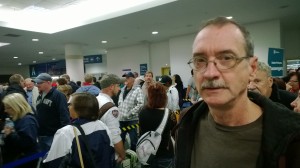 Not as bad as Seattle – 1 hour compared to 1.5 hours. This time there was a Preferred Line for the frequent cruisers like me and my guest so that knocked half an hour from the process, and the dual boarding ramps helped as well.
By a little after 1pm we were settled in our cabin and Magnatrious was fiddling with his radio that picked up all the crews radio signals – he's an ex-Merchant Marine: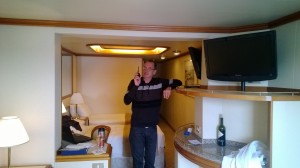 And it's a nice shot of our "Mini-Suite" which comes with a complimentary glass of welcome aboard champagne. I couldn't hold the camera AND the champagne so this is what you get: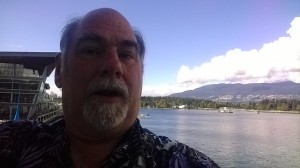 The weather is supposed to turn once we are out of protected waters, but for now it's a lovely sunset before dinner at 7pm: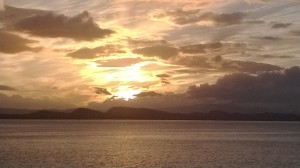 We opted for a shared table for dinner so that we could eat at 7pm rather than when a table opened up. We have an 8:30pm date with the LGTB (Lesbian, Gay, Transgender, BiSexual) Group meeting in the Wheelhouse Lounge.
As for dinner – same menu as the Seattle to Vancouver run which was also noticed by another couple at the table who were on the Star Princess as well. I did get her to try the Chilled Peach Bellini soup. I'd had a 5pm Bratwurst/Knockwurst snack so I was eating a little lighter. A nice bottle of wine – probably marked up a ton. I'll have to check when I get back.
The LGBT Gathering was a little disappointing in that it was the same time as a dance band struck up making it a little hard to talk. We finally got about six people, but since we were all a little late our "host" had left thinking no one was showing…. So I'm guessing no LGTB event on the schedule for tomorrow so we all decided to just show up at 5PM Tuesday and take over the lounge when nothing else is happening. It would be night if they put up a sign or something. Guess they think we are like the "Friends of Bill W" who don't want to advertise that they are a bunch of recovering drunks. Oh well. And once again all G's no BLT's – though a couple who was there said that on an Alaska cruise they took in June it was packed with Lesbians and they were the only gay couple to attend the gatherings.
Actually got to bed at midnight, which is early for me and late for Mags.
[? ? ?]