Six hours at the shop. Receipts less than I'd like, but it didn't suck marbles.
Got an invite from Jim for a bratwurst dinner after he and the other Turkeys (Tres Dindons in French) finish crushing the several hundred pounds of grapes they got in today.
What do crushed grapes look like?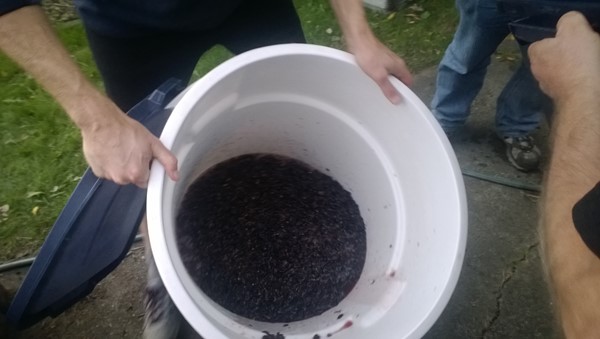 This was from a 200+ pounds of Pinot that arrived pre-crushed. They didn't think they were going to get any Pinot this year as a freak heavy rainstorm in Eastern Washington nailed about of grapes… the Turkeys only got some because of the government shutdown – apparently several hundred pounds were reserved by Federal Employee home vintners. Who thought there would be a silver lining to the debacle in DC.
Wonderful wieners off the grill, great sides, great wine, great company.
What more can you ask (other than getting home safely).
[211.2] No more cheating.