It might be time for an intervention – just booked more travel. Filled in December.
But before I get to what I've booked, let me show you what I built this afternoon: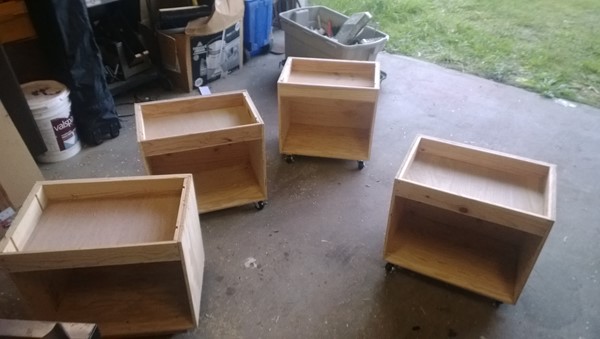 Four more rolling wine racks for the store. They still need to be sanded and I still need to build two more, but I'm making progress.
And now we return to travel plans:
First week of December – Hong Kong AGAIN. I realized that I was within striking distance of Platinum on United (75,000 flight miles). Better to do it this year because in January this boy will need to be looking for some work and I won't have the time.
Second week of December – Santa Fe to visit the family pre-holiday. Fly down (GREAT use of 12,500 United miles as it's a $275 one-way ticket). Guess I should email the relatives with my plan which is to fly down and take the train back from Albuquerque since Lamy (which is closer to Santa Fe) in in the next Amtrak Zone and I'm using 15,000 Amtrak Guest Rewards points that I transferred my my Chase Ink card – saving $700 which is the fare with roomette
Third week of December – Taking the train to LA in a roomette with my buddy Dwight across the hall who is continuing south to Fullerton to visit his mother. That would have been about $375 if I hadn't transferred more points over. Spending the night (as the train gets in late evening) hopefully with Craig, then flying back on Friday so I can work on Saturday.
So, between now and the end of the year the only weeks that I'm not going someplace are the weeks of Thanksgiving and Christmas.
Yes, it might be time for an intervention (but please wait until after the first of the year).
[207.8]