Got up at 7am to plug the computer in to see if BART was running today. Whew! It is. Back to bed until 9 since I don't have to get the boys to give me a ride into the city – a long ride on choked freeways with thousands of BART stranded riders in their cars.
Passed this sign on the way to BART: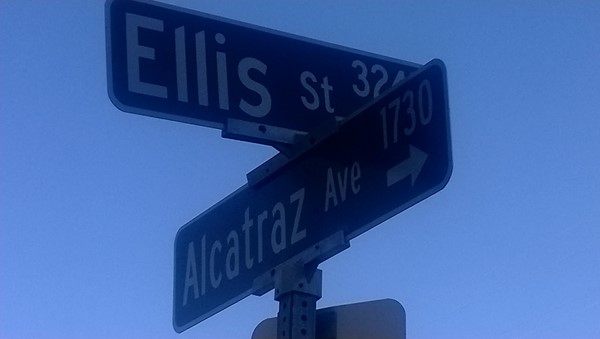 Significance? Both names of islands? Yes, but not the reason I took the picture – SeasideBoy's last name is Ellis.
No upgrade on the way back north. I'm number two on the list. Actually made it to number one when they last minute upgraded the guy sitting next to me. Almost as good as First Class – bulkhead aisle with the seat next to me open – made for a much more pleasant flight.
Steak and salad for dinner – big surprise there.
Time to unpack one bag and pack another for the trip to Birch Bay for an overnight play date with SeasideBoy tomorrow.
[? ? ?]