Slept in a little later than I'd planned, which meant run, run, run for the rest of the day.
Today's big chore is helping Jim with all the wine club shipments – well, not really shipments, they will be picked up—but they all need to be ready for the 1st, which is its own issue since Jim is taking this coming weekend off to head to Chelan meaning I'll be doing all the credit card billings on Friday. How's that for a run-on sentence?
But before that I need to start moving wine around in the house so I can take a bunch of 6-bottle wine boxes to the shop. Since I didn't have any empty cases I had to use wooden wine boxes that I brought home yesterday: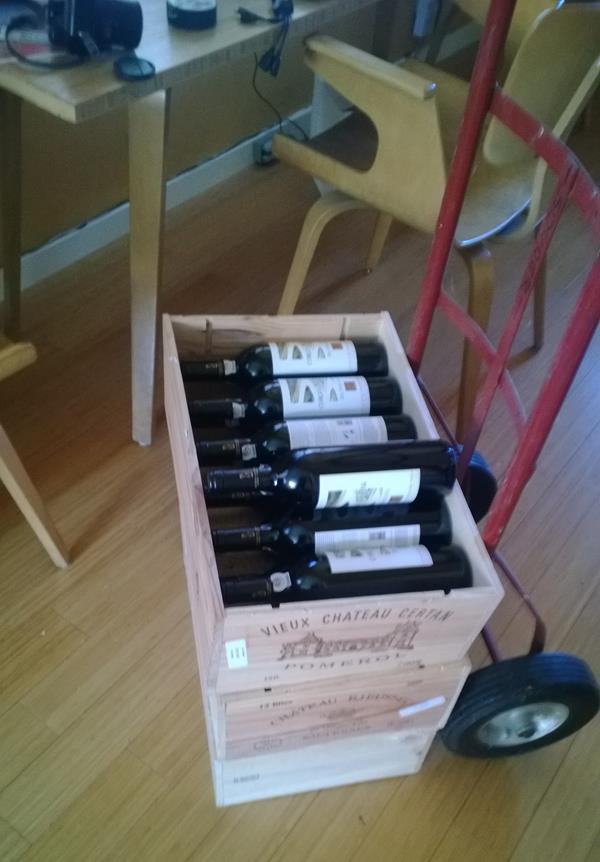 It took us almost three hours to get the club boxes put together – the downside of being flexible is while 12 people have "6 Reds" boxes, others are very customized:
3 Red/3 White
4 Red/2 White
6 Red/6 White – each bagged individually marked Red or White with the tasting notes inside the individual bags
You get the idea…
The upside (besides all the revenue this brings in) is that it's caused us to really clean up the back room. I took measurements for some more shelving to hold 6-pack boxes throughout the month so we don't have this scramble at the end of the month as the club continues to grow.
Didn't get home and settled until after four – moved some more wine in from the garage to get it to room temperature from garage temperature (makes the distilling process go faster):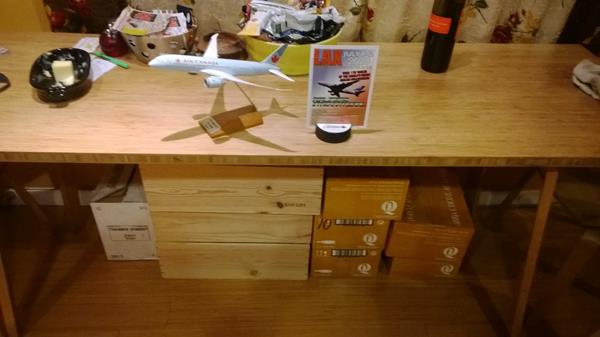 That would be a case of port on the left, Three cases of red in the wooden cases (from above) and 5 6-packs of the same dead red wine on the right – all below the lovely 787-8 Model Airplane that I got on the MegaDo.
Had a steak and a salad for dinner – and then it was back to work posting notes for this weekend's tastings. I'm particularly excited about the Sunday Sipper this week which is a Vermouth Tasting – we will have 6 of our Vermouths open for tasting.
Spent a little time trying to nail down details for my Honolulu and Hong Kong trips (no, not on the same itinerary), but nothing firm yet. Current thoughts are:
Macao and the Formula One Museum for the Hong Kong trip
Circle Eco-Tour of Oahu for my final day in Honolulu when I need to check out at 10am and my flight back to Bellingham isn't until 10pm
Was hoping to get to bed early since I've an early flight in the morning.
No such luck.
[208.4]