Up and out the door lugging a 6-pack of wine for the boys.
Got upgraded on the flight down – still no word on the return flight which means it doesn't look good.
This isn't my plane, but it is one of the newest in the Alaska fleet – dedicated to their employees: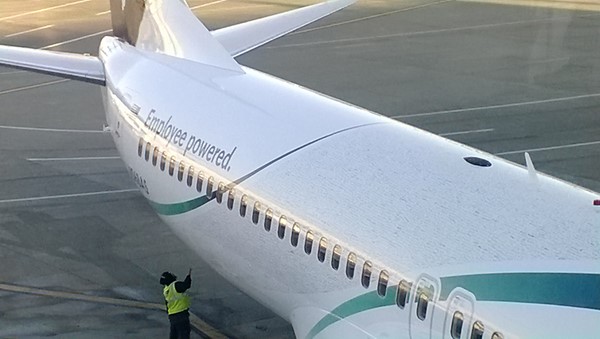 Uneventful flight down (just how we like them), easy transition to BART into the city. Stopped for a dog at the dog stand at the Ashby station – damn those are good dogs – before walking the ten blocks are so to Mark and Onyx's place. Normally I would have gotten picked up since I have the wine with me but Mark was on a conference call and, well, business does come first.
For our dinner tonight with Alicia (no Devon, he has a colonoscopy planned for the morning) I brought down some smoked black cod from the Port Chatham Smokery, now part of Trident Seafoods in Ballard.
Because Alicia has clients up until 8 – we ate a little later than usual… and started with a lovely Sparkling Rosé Cremant that I brought down on a previous trip. In addition to the cod, some fingerling potatoes (also from a previous trip) and a huge mixed green salad rounded out the meal service.
Needless to say I didn't get to bed early.
[208.0]