I found out that there is a difference between the WorldMark units and the Wyndham units at the Avenue Plaza beside the resort guide they put in the room. The Wyndham units you have to check out by 10am, and the WorldMark units by noon – not that it makes much difference since the Colonels have to check out at 10am and are heading over to pick me up.
But first another run to Igors for t-shirts. Kate wants another one in Large for the other daughter… and what the hell, I picked up one for myself as well. Sorry for the fuzzy shot.
To kill the time before my flight, and the Colonels need to get to Pensacola we are headed to the National World War Two Museum. Man that thing is big.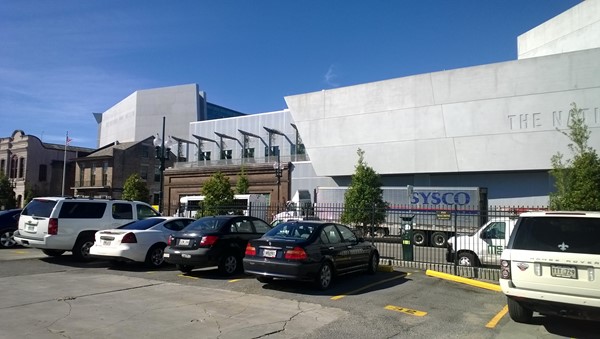 This is just ONE of the four buildings. Talk about an endowment.
Learned lots of new and interesting stuff – watched all of the 5-10 minute video reels mostly because it was a chance to get off me feet for a bit.
Several hours later we were all tired and hungry and headed to the snack bar for hot dogs – not going to be a low-carb day for me I can see. Then it was off to another of the buildings, this one sponsored by Boeing which looks like an overgrown boy's bedroom with full-scale airplanes hanging from the ceiling: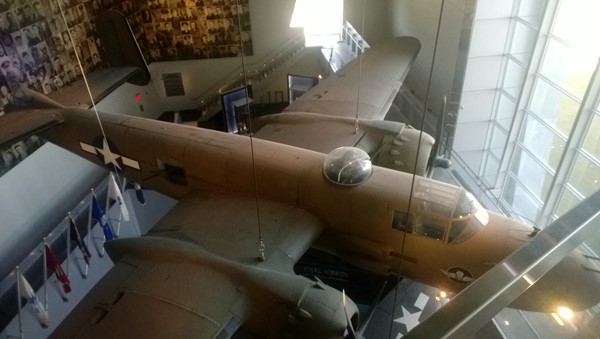 I like the fact that you had several catwalks to get a view from – and a warning that if you have vertigo or are afraid of heights – DO NOT go to the 3rd and 4th floors where the catwalks are. I don't, but it was still a little disconcerting.
Then it was time to run me to the airport (thanks, Colonels) and for them to head to Pensacola. Got to the Louis B. Armstrong International Airport 3 hours ahead of my flight… which is just fine. Time for another hot dog to tide me over until my dinner flight to San Francisco at 6:50pm
I can already say that I LOVE the new airline rules of allowing your small electronic devices to remain on gate-to-gate that just went into effect on United (and Alaska as well). It's really nice to be able to have your noise-cancelling headphones powered up for the noisiest part of the flight. Can't wait until my tablet comes back from the shop (should have been delivered today to the shop.)
Another couple of hours at SFO – meaning another snack – this time Mongolian beef from the Chinese place. No rice. Back to the diet – I can only imagine what tomorrow's weigh-in will be like after five days in NOLA.
The SFO-SEA plane was one of United's new "Sky Interior" 737s – slick. Love the lighting. Makes me wonder if they will retrofit their older 737s.
Didn't get home until two in the morning. Didn't get to bed until 3 winding down from all the travel excitement.
[? ? ?]