Lazy days sleeping in. Kept looking at my watch and not realizing I was still on West Coast time, not Mountain time.
Errands today:
Home Depot for yet another set of parts for the suitcase – and a DepotDog with a WAY too chatty owner
Total Beverage for two 1.75s of Evan Williams Black ($20.95)
King Sooper for eggs, Diet Coke, Diet Verners, and anything else that looked good on the mark-down racks (bread, cheese, bacon)
Quiet day around the house working on the computer, reading, cooking… isn't that what a holiday should be?
Steaks and greens for dinner—and some of the bread along with this great olive oil that we sell in the shop and a lovely bottle of the 2007 Bonny Boon le Cigare Volante (the flying cigar).
After dinner it was to the couches for some Wii Couch Bowling – it's like the Wii Bed Bowling from Cabo San Lucas in September, but from the couch. Basically you flip the WiiMote over and bowl overhand – something that I would not suggest at your local Bowling Alley.
Today's Uncle Markie picture features Winston, who is slowly calming down and warming up to me.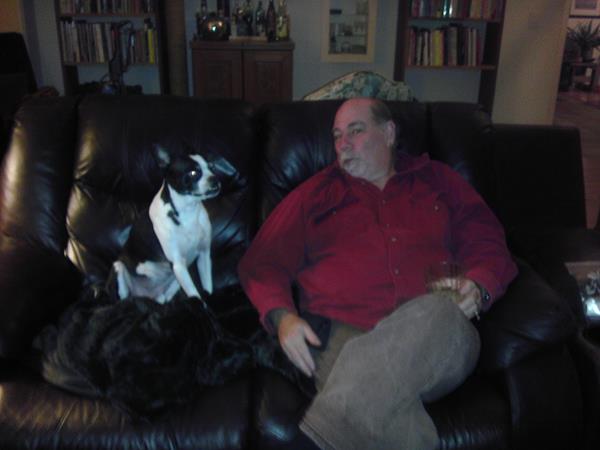 At least he isn't barking in this shot.
[208.0] analog doctor's office scale