I've got all these plans… and none of the paperwork printed out. And speaking of papers, I updated the Wall Street Journal suspend/resume list for my newspaper… looks like I'm travelling a bit: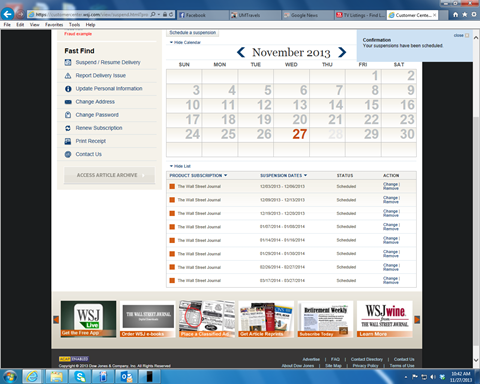 All those orange boxes are times I'm away between now and March.
Got all the confirmations printed out for:
United SEA-SFO-HKG-SFO-SEA
Hotel Presidenté in Macau
United SEA-SAF
Amtrak ABQ-LAX-SEA
Amtrak SEA-LAX
Alaska Air LAX-SEA
Alaska SEA-OAK-SEA
Alaska SEA-LAX-SEA
Princess Cruises LAX-Ensenada-LAX
Alaska SEA-OAK-SEA
Alaska SEA-OAK-SEA
United SEA-IAD-MUC-IST-MUC-IAH-SEA
Whew!
Finished the top renovation on the living room bar. Still need half a dozen pint glasses: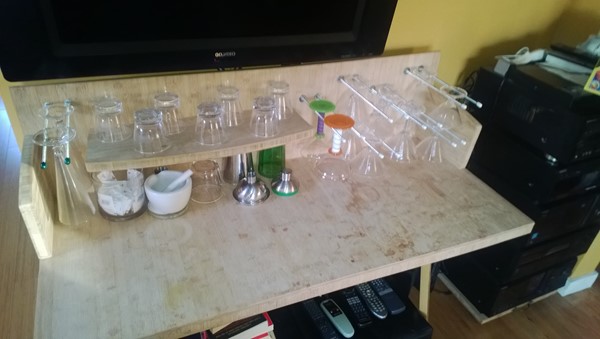 And my plan for a new bottom with lots of storage for wine and booze has had to undergo a major design change – from two wooden wine boxes for wine storage and two open topped for booze storage – it's now going to be three across (from two, meaning it will be a full base for the bar) with two open bins for booze storage, and five for wine and other storage… and will probably take twice as long to build. And the soonest I can work on it will be Friday since I worked from 4-7 tonight and tomorrow I'll be working from 11-3 and then it's off to MoonSong's for a deep fried bird.
The day at the shop was….
[207.2]