6AM wake-up call – which actually happened. You never know with the language issues. They even served me my "American Breakfast" before 7am which is the official start. Since room service is 24 hours a day, it wouldn't seem like a big deal.
Then there was getting a cab to the Ferry Terminal… more language difficulties – which ended up basically go down to the street and flag one down. Success in under 5 minutes. More lessons learned.
I should really have done a little more research on the High-Speed Ferry to the airport… I'd heard it ran every 30-45 minutes… well, that turns out to be the ferry to the mainland – 2 hours is the one to the airport. Ouch – and I missed the cut-off for the 7:30 by like half an hour. Had I known I would have skipped breakfast. Luckily flight isn't until 12:30pm so there will be plenty of time, but it does cut down my time in the lounge with its really good wi-fi connection.
Upstairs in the Ferry Terminal next to the McDonalds I did fine a decent signal – enough to finally get those BlueTooth drivers downloaded and installed.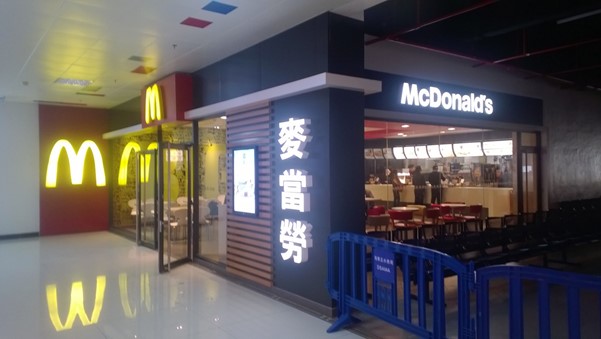 And my work space: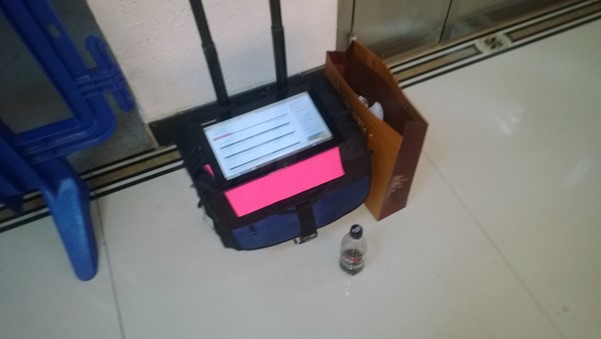 MAN I really wanted a chair to sit on, but they were all chained off. And what a GREAT idea for public places – a charging station with all sorts of cables: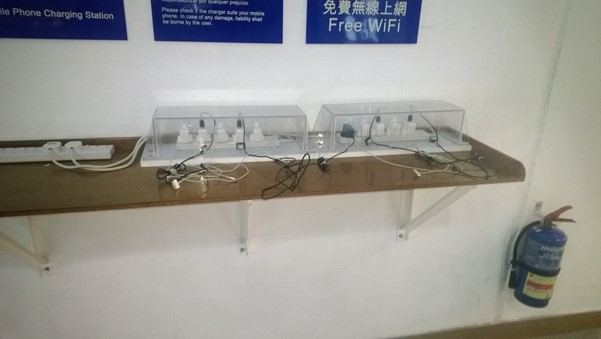 Well – the ferry is here to take me to the airport…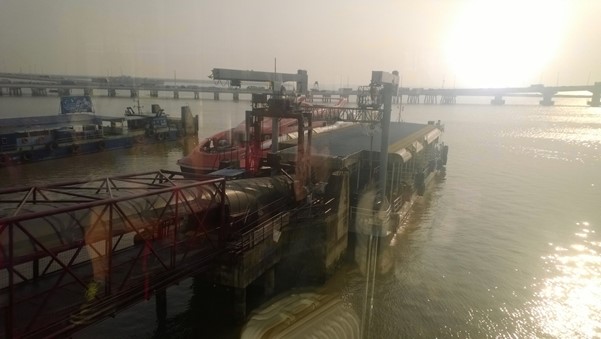 And funny thing number one… so I get to the airport and check in – they hand me a refund receipt for $120HKG ($13-15USD) which I take to a counter just before security and they pay me in cash. Why? A refund for some Hong Kong Airport tax that doesn't apply to people coming in from Macau? Clueless – I used the money to buy a carton of cheap Chinese cigarettes. OF course the downside is that I have like $90MCO (Macau dollars, about $11USD) and $500-600HKG (like $75USD) – guess I have to come back.
The down side of the delay is only an hour in the United Club in Hong Kong WHICH IS STUNNING for the array of free food and booze they have not to mention all those newspaper, which to a news junkie is nirvana. Last time I was through (September?) they had a Hot Dog Stand set up. This time is was a freakin' Taco Stand set up: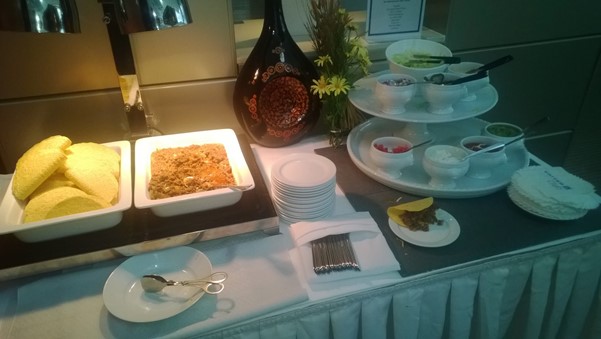 Four drinks, two messy tacos, a couple of helpings of the chicken in a cream sauce, a spring roll – passed on the vegie sushi rolls, fried rice, sautéed vegetables – but did grab a couple of sandwiches for the plane along with six different newspapers.
All is good.
Flights are on time.
[? ? ?]