Apparently I don't learn that dinner parties the night before travelling yield hangovers.
That said, it was a great night. I love cooking, I love plying boys with fresh baked bread…
But this is what I look like in the morning in the airport: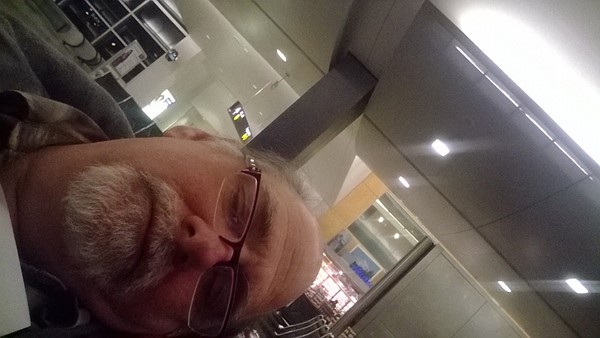 The secret to sleeping on a plane – no sleep the night before. Slept like a lamb.
Quarter Pounder with Cheese in the airport before the next flight (which I slept through) to Santa Fe.
Sis-in-law met me at the airport and suffered through the – I swear – they bring the bags one at a time from the plane to the baggage carousel – hell, it's a roller track. And slow.
Got to El Castillo (The Castle) to hang with Mom for a couple of days.
Chat for a while and then it's off to shopping:
Cheap booze to take back to Washington State (several 1.75 litters of Evan Williams), Trader Joes and Albertsons
Leopard print Santa Hat to replace the one I forgot in Seattle (Albertsons, not as nice as the one I left behind)
Then off to pick up dinner at the Whole Hog – went for the "Whole Hog Platter" which is:
pulled pork,
beef brisket,
three baby back ribs
beans (tasty),
potato salad,
slaw,
roll
Mom turned her nose up at the roll, but it was one of those dinner butter things that I scarfed down even on my low carb diet. There was enough food for the both of us, and snacks for tomorrow.
Meanwhile, I've got blogging to do, and I made a deal with the gay couple across the courtyard from mom's to piggyback (not bareback) on their wi-fi – granted it's 1-2 bars but it beats trying to do stuff on mom's dial-up (no, not kidding) connection. Looking into fixing that.
Speaking of fixing, things to fix, or just things to organize:
Dishwasher – apartment size, bad to start with, bad install, cleaned lots of filters
Extension cords going everywhere (tomorrow)
Deal with the storage room (tomorrow)
Other chores:
Pimp spare bedroom (where I stay)
Up too late (again).
[? ? ?]